Wheeling Hall of Fame: Leon "Chu" Berry
1908-1941
Fine Arts
---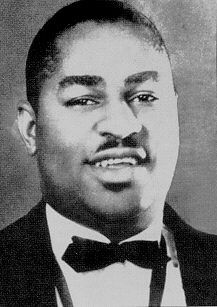 Inducted 1998
"It might have been," said the poet, are the saddest of words. in a way, that is part of the story of Leon "Chu" Berry, a Wheeling native who during his short life became the jazz world's dominant tenor saxophone player.
Had Berry's life not been cut short when he died at age 33 as the result of an automobile accident, he probably could have become the most significant jazz saxophonist of the 20th century.
But what he did achieve was enough. Dan Morgenstern, director of the Institute of Jazz Studies at Rutgers University, says of Berry, "Considering the brevity of 'Chu's' life, and that his recording career spans a mere decade, it is remarkable that his name continues to loom large in the annals of jazz. had he lived, there is no doubt thathe would be ensconced in the jazz pantheon alongside Coleman Hawkins and Lester Young. He was that good."
Even today, Branford Marsalis, James Carter and other leading young exponents of the tenor saxophone mention "Chu" prominently among their musical ancestors.
"Chu" Berry was born in Wheeling on Sept. 13, 1908, the son of Brown Berry and Maggie Glasgow Berry. He died on Oct. 31, 1941, near Conneaut Lake, Ohio, as the result of injuries he received in an accident three days earlier while a passenger in an auto taking members of the Cab Calloway Band to Canada for a job.
Born into a relatively well-to-do family that included a "very musical" half sister who played piano in a jazz trio that rehearsed in the Berry home, "Chu's" love of music and the saxophone was born.
Inspired by Coleman Hawkins (whom he heard on tour) to take up the saxophone, he played the alto instrument while at Lincoln High School in Wheeling and at West Virginia State College in Charleston. After playing with his sister for high school dances, Berry's first band experience occurred in a 15-piece group in Wheeling and a college band in Charleston.
In summer 1928, Berry returned to the Ohio Valley after a year in college and joined the "swingingest jazz band around," Perry's Broadway Buddies, a fixture at the old state fairgrounds on Wheeling Island and at the old Henry Clay Tavern beyond West Alexander.
In 1929, he received his first nationally important professional engagement when he joined the Sammy Stewart band in Columbus and Chicago. Within months he made his first foray into New York and its jazz scene.
He switched from alto sax to tenor sax after he joined the Stewart band and met and performed with tenor saxophonist Cecil Scott's band.
Among the major groups with which he played were the bands of Benny Carter, Teddy Hill, Fletcher Henderson (to whom he contributed the song "Christopher Columbus") and ultimately Cab Calloway. He performed as sideman or on recordings with many of the best known artists of the era from Bessie Smith to Count Basie.
The magazine Metronome named Berry to its All-Star Band for 1937 and again in 1938. With Berry as 4th tenor sax player, the leaders of this mythical band were no less than Tommy Dorsey and Benny Goodman. In addition to Berry, members included Jimmy Dorsey on lead sax, Goodman on clarinet, Harry James on lead trumpet, Jack Teagarden on hot trombone, Teddy Wilson on piano, Bob Haggart on bass, Gene Krupa on drums and Ella Fitzgerald as "girl singer."
As a member of Cab Calloway's Cotton Club Orchestra, Berry also was chosen as the tenor saxophonist for the Colliers Weekly All-American Dance Orchestra as selected by Paul Whiteman, "the dean of American music."
According to The New Grove Dictionary of Jazz, Berry was "strongly influenced by Coleman Hawkins, but soon developed his own distinctive style ... His sound was less voluptuous than Hawkins' and its melodic imagination not as fertile, but he was the older man's equal in harmonic sophistication and his superior when it came to swing and drive. Berry excelled at performing in fast tempos, where his remarkable breath control, unerring sense of time, and even, strong tone production stood him in good stead."
Despite his short life, Berry managed to secure for himself the ultimate accolade of being regarded as a muscian's musician. When Berry died, Calloway said it was "like losing a brother."
Berry's own inspiration, Coleman Hawkins, said of him, "'Chu' was about the best."
---
Text and pictures provided by Wheeling Hall of Fame. Service provided by the staff of the Ohio County Public Library in partnership with and partially funded by Wheeling National Heritage Area Corporation.
Wheeling Hall of Fame Index | People of Wheeling Home | Wheeling History Home | OCPL Home