Wheeling Hall of Fame: Stuart Bloch
1933-2017
Sports and Athletics
---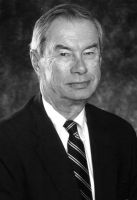 Inducted 2008
Stuart F. Bloch - West Virginia native to serve as President of the United States Golf Association. Bloch's term leading the USGA was from 1992-94 but he has been a major player in USGA activities during three decades.

He served on 15 USGA committees and was chairman for the Championship Committee which conducts 13 national tournaments including the U.S. Open, U.S. Women's Open and U.S. Senior Open. Bloch also served on the International Team Selection Committee for U.S. members competing in the Walker Cup Match vs. the United Kingdom and Men's World Amateur Team Championship, as well as the Equipment Standards Committee for uniformity with regulations. Since 1994, he has been a USGA consulting member for the Equipment Standards Committee and member of the Past President's Advisory Committee. The USGA is the governing body of amateur golf for the U.S. and Mexico and the national association of golf courses, clubs and facilities. Together with the Royal & Ancient Golf Club of St. Andrew's, the USGA produces and interprets the Rules of Golf and provides a national handicap system for golfers. The USGA is a leader in turfgrass research and provides hundreds of grants to grass-roots programs.

Bloch also has been active with the West Virginia Golf Association and served as president from 1980-83. He was a golfer both at the high school and college levels and graduated from Phillips Exeter Academy in New Hampshire in 1952 and Princeton University in 1956 before serving from 1957-60 in the U.S. Air Force. He joined his family business, The Bloch Brothers Tobacco Co., in 1960 and worked 15 years including President from 1970-75. From 1975- 80, he was Vice President of General Cigar & Tobacco Co.

Since 1980, he has been Executive Vice President of Hazlett, Burt & Watson, Inc. Active in local community events, he also served as a coach and commissioner from 1976-85 of the Wheeling Area Hockey Association. He is a member of Wheeling Country Club and is a past Director. Bloch and wife Stephanie have four children: Karen Wilkinson, Steve Bloch, Caroline Jones and Thomas Bloch II; and seven grandchildren.
---
Stuart Bloch passed away on October 29, 2017.
▶ View Mr. Bloch's obituary
On April 27, 2010, Mr. Bloch presented "A History of Bloch Brothers Tobacco Co." at Lunch With Books at the Ohio County Public Library.
▶ Watch this Lunch With Books program
---
Wheeling Hall of Fame Index | People of Wheeling Home | Wheeling History Home | OCPL Home