Wheeling Hall of Fame: Everett Brinkman
1902-1972
Sports
---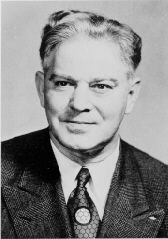 Inducted 1982
Everett Brinkman was the master coach. Resourceful, highly competitive, and a strict disciplinarian, he was years ahead of his time in his coaching strategy and outlook on the game of basketball.
"Brinkie" became a legendary figure in state high school athletic circles as he took Wheeling High basketball teams to the state tournament on seven occasions and brought home five championship trophies.
Moreover, the South Wheeling native was an outstanding football coach and teams he piloted laid claim to four state crowns in the autumn sport -- at Union High, Benwood, in 1928 and '31 and at Wheeling High in '34 and '37, though there were no playoffs in football to decide official championships in those days.Of course, the Brinkman name was well established in his native city before he ever coached his first game.
He was an outstanding athlete at Wheeling High and won 13 varsity letters -- four each in football, basketball and baseball and one in track. He won all-state honors in both football and basketball in his senior year of 1922-23 and established a school record of 54 points in a basketball game against Mt. Pleasant.
Though only a 155-pounder "Brinkie" went on to become a mainstay in three sports at West Virginia Wesleyan College, which at that time played a big-time football schedule. Wesleyan's 1925 basketball team, with Brinkman at forward, captured the West Virginia Intercollegiate title. At Union, Brinkman's football teams won 40 games, lost nine and tied four in six seasons. Both his 1938 and '31 squads posted perfect records.In 1933, Brinkman returned to Wheeling High, as football and basketball coach. In eight years a football coach, his record was 47-23-11 and he never had a losing season. His 1934 gridders were undefeated, though twice tied, in 11 starts. He coached the first Wheeling football squad to play under the lights.
As a basketball mentor, Brinkman was a pioneer of the two-handed jump shot and the fast break. His combined Union-Wheeling basketball record was 405 victories against 193 losses. His Wheeling basketeers captured state championships in 1936, '38, '40, '43, and '50. His 1949 team was runnerup.Two of his aggregations -- 1939 and '50 -- went undefeated and two others (1940 and '43) sustained only one loss.Brinkman's last team, that of 1955, established an Ohio Valley scoring record (since broken) with 146 points in one game.
After retiring from coaching, he devoted himself to the school administration field. He had his master's degree from the University of Pittsburgh.
Coach Brinkman died on July 20, 1972.
---
Text and pictures provided by Wheeling Hall of Fame. Service provided by the staff of the Ohio County Public Library in partnership with and partially funded by Wheeling National Heritage Area Corporation.
Wheeling Hall of Fame Index | People of Wheeling Home | Wheeling History Home | OCPL Home