Wheeling Hall of Fame: S. James "Jim" Foti
1910-2004
Sports
---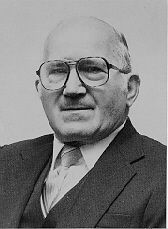 Inducted 1982
A basketball coach for 38 years and a football coach for 20 years, Jim Foti can look back on a record of distinction.
Now 80 years old and retired from coaching but still residing in Warwood where he piloted the high school basketball teams for 27 seasons, the fiery half pint of a coach has compiled a record staggering in quantity and luminous in quality.
The Jamestown, N. Y., native, who has called the Ohio Valley "home" ever since coming to Wheeling to coach football and basketball at Central Catholic High in 1942, gave coaches past and present something to shoot at with 466 varsity high school basketball victories. That total has been surpassed in the area by only one coach, Dick Potts, of River High at Hannibal, Ohio.
Foti was an old hand at state tournaments. His Warwood teams won 11 sectionals and seven regionals and thus appeared in the West Virginia state tournament seven times. Moreover, in his six years at Central, his basketeers won five state Catholic championships and compiled an over-all mark of 177 victories against 28 defeats. His powerful 1943 football team at Central also engaged in post-season action as its 9-1 record earned a berth in the Steel Bowl at Steubenville, where it lost a thriller to Rochester, Pa., 25-19.
At Warwood, the little general experienced 14 winning basketball seasons and three campaigns in which his Vikings won 20 or more games. His 1967 aggregation captured the West Virginia Class AA crown at Morgantown and his '75 team was runnerup to Northfork.
Foti, who retired in 1976 after taking the Vikings to the state tourney in Warwood's last year of existence as a high school, holds the distinction of coaching championship teams in three divisions of the Ohio Valley Athletic Conference. He also coached West Virginia teams in Ohio Valley all-star basketball and football games. In 1947-48, he piloted the professional Wheeling Puritans, forerunners to the Wheeling Blues.
Foti had two tours of duty at Wheeling Central. After coaching there from '42 through the basketball season of '44, he moved across the river to Bellaire High, where he coached for two years. Then he returned to Central to pilot the Maroon Knights through 1949.
When he went to Warwood, he was head basketball coach and line coach in football and one of the all-time greats of the gridiron, Chuck Howley, came under his tutelage. He became head football coach in '57 and directed the Viking gridders for 10 years. His overall record in the fall sport was 90-106-3 but Warwood often played a schedule for which it was overmatched.
Foti won an OVAC basketball championship with his '43 Central team. His '44 club bowed by only a point in the East Catholic championships at Newport, R.I. His '62 Warwood team and his '67 state champs were OVAC titlists.
A stellar high school athlete at Jamestown, Foti played football, basketball and hockey at John Carroll University. At 5-6, 160 pounds, he was a watch-charm guard in football and basketball. Yet, in the late '60s, he was selected as a member of the Blue Streaks' all-time football team.
After graduation from college in '38, he served at John Carroll for a year as a freshman coach before being hired at Erie, Pa., Prep, where in two seasons his basketeers won 26 and lost eight. Then he came to Wheeling.
---
Hall of Fame Index | People of Wheeling Home | Wheeling History Home | OCPL Home