Wheeling Hall of Fame: Alexander Glass
1858-1941
Business and Industry
---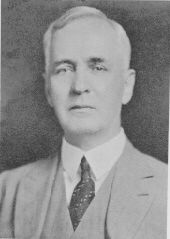 Inducted 1980
Alexander Glass made Wheeling a household word by sticking a red Wheeling label on the sturdy garbage can manufactured by the company he founded - the Wheeling Corrugating Company.
Thirty years later, in 1920, he arranged the merger of three Wheeling concerns to create the Wheeling Steel Corporation.
Glass was born in Wheeling in 1858 and died in 1941. His industrial career began at the age of 14 when he was hired as a laborer at the Aetna Iron & Steel Works. Weighing only 100 pounds, he began picking up nails and toting heavy nail kegs for 12 hours a day at $2.50 per week.
The future industrialist went to Iron City College at Pittsburgh to study business forms and practices and later worked briefly in the Wheeling Post Office. He was also employed for a year at a Tennessee paper mill.In 1882, Glass became a payroll clerk in the LaBelle Iron Works at Steubenville. His father had founded that company.
He advanced to book-keeper at the Junction works under Sam Laughlin and became secretary of Laughlin & Junction Steel Works in 1885. He managed Bessemer Steel plants in Hammond and Terre Haute, Ind., from 1887-89.
When Glass returned to Wheeling in 1889, he brought with him a manufacturing idea that was new to the local steel business. He envisioned a large market for a lightweight metal building material - sheet steel coated with zinc to protect it from rust and then corrugated to increase its strength or rigidity. He explained his ideas to his father-in-law, Nelson E. Whitaker, who operated the Whitaker Iron Works.
On Jan. 31, 1890, a new corporation was formed. This was the Wheeling Corrugating Co., started with $10,000 in cash, $400 of which was pledged by Alexander Glass.
Soon, under the guidance of the versatile, imaginative and energetic Glass, Wheeling Corrugating diversified into producing various light metal products, including roofing, conductor pipes, metal ceilings and eaves, troughs, tin plate, and terneplate.
After World War I, it became apparent that a combination of metal-producing interests would solve many problems, avoid duplication, and prove profitable. Thus, Wheeling Steel Corp. was born. It combined the LaBelle Iron Works, Whitaker-Glessner Co., and the Wheeling Steel and Iron Co. Alexander Glass was its first chairman — a position he held until his death.
---
Text and pictures provided by Wheeling Hall of Fame. Service provided by the staff of the Ohio County Public Library in partnership with and partially funded by Wheeling National Heritage Area Corporation.
Wheeling Hall of Fame Index | People of Wheeling Home | Wheeling History Home | OCPL Home