Wheeling Hall of Fame: Bob Biery
1901-1991
Sports
---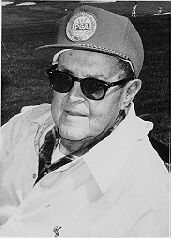 Inducted 1984
Bob Biery had a love affair with the game of golf since he made his first 15 cents as a fore-caddy at the age of 5.
Even late in life, he was still actively associated with the sport as he cruised the hills of Oglebay Park's Speidel course in a golf cart as a ranger.
Biery laid out and built Oglebay's Crispin Center course. He was reponsible for the nine-hole course at Wheeling Park and contributed his knowledge, energy, inspiration and perspiration to help in construction of courses at Belmont Hills, Wheeling and Moundsville Country Clubs and Vine Cliff course at Rayland.
Born at Greggsville on July 2, 1901, Bob quit school at age 15 on orders of his father, Louis, a cement finisher who came here from Switzerland. The father was upset when his son was injured playing football.
Biery was introduced to golf by his older brother, William, who had become a caddy at Wheeling Country Club. When Bob began showing up daily at the club, he was so small they wouldn't let him carry bags but he realls, "I would run on ahead and check where the balls landed. The balls couldn't be purchased here but were ordered from New York."
As a teenager, Biery became caddy master at Wheeling Country Club. Then he became assistant pro under Scottish-born Alex Cunningham in 1917. After Cunningham moved to St. Joseph, Mo., Biery worked under A. J. Chapman. In 1920 Cunningham became professional at Toledo Country Club and sent for his protege.
Biery was the first West Virginia native to become a golf pro and was also the first employee of the Wheeling Park Commission. In 1922, he returned from Toledo to Wheeling to work for Emmett Deveroux, foremost golf architect of that era. Deveroux built the back nine at Wheeling C. C. with Biery as construction superintendent.
Biery subsequently accepted a proposal from the Wheeling Park Commission that he take on the challenge of building the nine-hole Wheeling Park Course. By then he contemplated doing some proposing of his own as he had become enamored with the young lady, "Gen," who was to become his wife.
"Patterson Construction Co. had just built Oakmont course in Pittsburgh and had a traveling construction gang," Biery recalled. "I had them bring their mules and scoops to Wheeling. The place was a jungle but I had an idea of what I wanted. We blasted out 1,800 trees and dumped them in hollow between what became No. 3 and No. 5 greens. It looked like an elephant graveyard."
After the greens were "roughed in," Biery was left, with his own helpers, to complete the job. The course opened on July 1, 1925.
In 1927, Bob began to stake out the Crispin Center course at Oglebay. A decade later, he put in the back nine.
Biery, who founded the Oglebay Caddy Camp, worked at Blaw-Knox in Martins Ferry during World War II but later returned to golf as a pro at Preston Country Club in Kingwood.
Biery also had avid interests in gardening, hunting and fishing but is best known for his great contributions to Ohio Valley golf.
He passed away February 11, 1991.
---
Text and pictures provided by Wheeling Hall of Fame. Service provided by the staff of the Ohio County Public Library in partnership with and partially funded by Wheeling National Heritage Area Corporation.
Wheeling Hall of Fame Index | People of Wheeling Home | Wheeling History Home | OCPL Home