Wheeling Hall of Fame: Jesse Burkett
1868-1953
Sports
---
Inducted 1982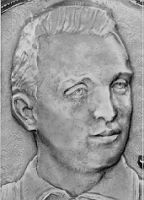 As a boy, he loved to swim in the Ohio River and he learned the game of baseball on Wheeling Island, the neighborhood of his formative years.
As a man, he stood only 5 ft. 8 but he became one of the true giants of his sport.
The first West Virginia native to be elected to the National Baseball Hall of Fame at Cooperstown, N. Y., was Jesse Cail Burkett, a native of Wheeling. He was one of the game's great players in the pioneer days of professional baseball.
Only three men in history ever batted over .400 on three different occasions in the major leagues. They were Ty Cobb, Rogers Hornsby and Jesse Burkett.
Batting champion of the National League three times, Burkett compiled a lifetime average of .342. A left-handed, line-drive hitter who was also recognized as an outstanding bunter, he enjoyed a spectacular season with the Cleveland Spiders in 1895 when he his .423 to lead the league. He also led in base hits, with 235, while scoring 149 runs and stealing 47 bases, and paced Cleveland to the Temple Cup, symbolic then of the championship of the sport.
The next year, Burkett, nicknamed "The Crab", batted .410. After being traded to St. Louis, he hit .402 in 1899.
In all, Burkett spent 16 seasons in the majors. He fell just 128 hits shy of the 3,000-hit total, which has be attained by only 11 men.
Born in Wheeling on Dec. 4, 1868, Burkett was influenced by the fact that the city was baseball-conscious. He developed rapidly as a player and turned professional while still in his teens. In 1888, he played for Scranton, Pa., in the Central League. He was a pitcher then and won 27 games in his rookie year.
The next season he advanced to Worcester, Mass., of the Atlantic Association and compiled a brilliant 39-6 record while batting .280 as a second baseman -- all for $125 a month.
Worcester became the "second city" of his life and he adopted it as his home. He lived there until his death on May 27, 1953.
Burkett broke into the majors with the New York Giants in 1890. He went on to play with Cleveland, the St. Louis Cardinals, St. Louis Browns, and Boston Red Sox. Later, he became owner, manager and outfielder of the Worcester team of the New England League and won the league batting title. His team won four successive pennants from 1906 to 1909.
The former Wheelingite played his last professional game in 1916 at age 47. Then he became coach at Holy Cross College for four years. He also coached the New York Giants and went on to manage various teams in New England until 1933. He died in Worcester on May 27, 1953.
---
Text and pictures provided by Wheeling Hall of Fame. Service provided by the staff of the Ohio County Public Library in partnership with and partially funded by Wheeling National Heritage Area Corporation.
Wheeling Hall of Fame Index | People of Wheeling Home | Wheeling History Home | OCPL Home