Wheeling Hall of Fame: Forrest H. Kirkpatrick
1905-1998
Religion and Education
---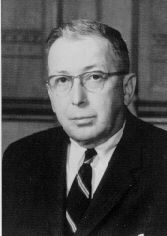 Inducted 1992
Dr. Forrest H. Kirkpatrick has been widely recognized and admired as a distinguished educator, industrialist, and community leader.
He has certainly earned the niche reserved for him in the Wheeling Hall of Fame in the field of education but would have been equally qualified if he had been nominated for his accomplishments in industry or in public service.
He is truly an Ohio Valley citizen extraordinaire.
Possessed of a brilliant mind, an unflagging devotion to the welfare of his fellow man, and an incisive wit, he has been called upon to use his talents on behalf of city, state, and nation. He has been a special consultant to the State Department, the Department of Labor, the War Manpower Commission, the Post Office Department, and the Civil Service Commission.
His name has become synonymous with that of Bethany College, his alma mater (class of 1927) and a school which he served as dean and professor for 25 years. He has both his master's degree and his doctorate from Columbia University, where he was a President's Scholar, and has also done graduate work in English — at the University of London, University of Cambridge, and the University of Oxford.
In later years, he served for a decade as part-time visiting professor at West Virginia University. He has also been on the teaching staff at New York University, Columbia, the University of Pittsburgh, and the University of Wisconsin for summer terms.
A first-class teacher and inquisitive scholar, Dr, Kirkpatrick has also exhibited the ability to develop and mobilize ideas and manpower resources in industrial or community situations. He has also served with distinction on the home front and can take satisfaction in being the original chairman of the Wheeling Hall of Fame Board, as well as working on the boards of many area institutions.
Dr. Kirkpatrick served on the Board of Governors of West Virginia University for 12 years, on the West Virginia Commission on Higher Education for 10 years; on the State Commission of the States for eight years and the Centennial Commission for four years. He also served on the U. S. Armed Forces education committee after World War II. In the 1930s, he was a member of the American Youth Commission advisory of the American Council on Education.
In industry, Dr, Kirkpatrick was an executive with Wheeling-Pittsburgh Steel Corporation for over two decades. He saw service as a vice-president and a member of the board. Prior to that tenure, he was associated with the Radio Corporation of America as general manager of personnel administration and later as an educational consultant.
During his steel industry years (1952-1975), he was chairman of the education committee of the American Iron and Steel Institute and spent two terms on the board of directors and a chairman of the education committee of the National Association of Manufacturers. For 10 years, he was an officer and director of the West Virginia Manufacturers Association.
He is a charter member of the Industrial Relations Research Association and a life member of the Academy of Political Science.
After his retirement from industry, he returned to Bethany as an adjunct professor. Ordained as a minister back in 1929, he has long served the Bethany Memorial Church as an elder and trustee.
Born on Sept. 4, 1905, in Galion, Ohio, his childhood and school years were spent in Shelby, Ohio.
However, Wheeling has become his adopted home community and he has been an exemplary representative of the city — in far away places and on significant assignments.
---
Text and pictures provided by Wheeling Hall of Fame. Service provided by the staff of the Ohio County Public Library in partnership with the Wheeling Hall of Fame Committee.
Hall of Fame Index | People of Wheeling Home | Wheeling History Home | OCPL Home