Wheeling Hall of Fame: Harry C. Northwood
1860-1919
Business and Industry
---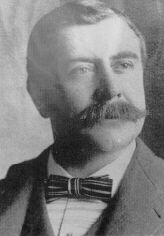 Inducted 1994
Harry C. Northwood established one of the premier glass tableware plants of the United States in Wheeling shortly after the turn of the century.
Northwood died at his Wheeling Island home in 1919 but his name lives on through his glassware, which is highly sought-after, not only in this country but world-wide.
Northwood's glassware is prominently displayed at the Oglebay Institute Glass Museum, as well as at many other glass museums.
One of the pillars in Wheeling's industrial growth, Northwood employed 300 people and produced 1,000 barrels of glass each week during his peak period of operation and thus made a significant impact on the local economy.
Northwood became a household word throughout America. The company produced a wide variety of tableware, novelty items and even lighting fixtures in an array of opaque, translucent and high-colored glass.
Glass collectors say that Northwood glass prices now range from $20 to $30,000 or higher.
Harry Northwood was born in Wordsley, Staffordshire, England, on June 30, 1860. The eldest son of a renowned glass artisan, John Northwood, he began an apprenticeship in the glassware business when only 14 years old.
Emigrating to the United States in 1881, at age 21, he settled in Wheeling, where he was employed at the Hobbs-Brockunier Plant as a glass etcher for a few years before going to the LaBelle Glass Co. in Bridgeport. He later headed glass plants in Martins Ferry (1888-1893), Ellwood City, Pa. (1894-95) and Indiana, Pa. (1896-1899).
He returned to England in 1899 but the Board of Trade in Wheeling induced him to return to the city, where he founded H. Northwood & Co. in 1901. The new company took over the by-then-closed Hobbs-Brockunier factory at 36th and McColloch St. and remained in business until December of 1925.
In business with Harry Northwood was his brother, Carl, who was head of sales and also the decorating department. The brothers died within a year of each other — Carl in 1918 and Harry in '19.
There were dozens of glass manufacturers in the Ohio Valley at the time of the Northwoods' success and competition was fierce. However, Harry Northwood's recognized genius kept the company prospering.
Much of Northwood Glass was pressed, rather than blown. The most famous Northwood product was carnival glass, an iridescent ware that was a type once sold to carnivals to be used as prizes on the midway. However, that glass has become more desirable and more expensive down through the years.
---
Text and pictures provided by Wheeling Hall of Fame. Service provided by the staff of the Ohio County Public Library in partnership with the Wheeling Hall of Fame Committee.
Hall of Fame Index | People of Wheeling Home | Wheeling History Home | OCPL Home