Wheeling Hall of Fame: Harry Holbert
1918-1982
Music and Fine Arts
---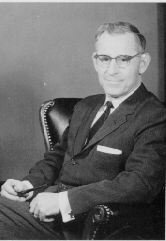 Inducted 1982
Harry C. Holbert is responsible for not only educating a vast number of persons in art appreciation but also in encouraging and developing in many of them a talent for doing — enjoying art as a personal achievement.
Harry Holbert had a solid academic background for his ability in art and in helping his pupils to find a niche for themselves with brush, paint, charcoal, chisel, clay or welding torch.
His education at the American School of Design in New York City was enhanced by study with Maurice La France in Paris.
Born in 1918 at Elizabeth, W. Va. he was the proper age for service with the armed forces in World War II. He was with the infantry in Europe, serving after D-Day in France where he earned the Combat Infantry Badge, the Bronze Star and four battle stars. He was a radio technician and had yet to begin his career in art education.
However, on his return to Wheeling, Harry Holbert and Oglebay Institute had a meeting of minds. Holbert wanted to pass along his love of art to as many persons as possible. Oglebay Institute's purpose was not only to show people how to draw but to developed leadership in the arts. It is not known how many persons Harry Holbert inspired to leadership but their numbers must be legion.
A number of Harry's students have become nationally known in the art field. There is, for instance, John Pai who is professor of sculpture at Pratt University in Brooklyn; Robert Stoetzer of Florida, an internationally known name in metal sculpture for churches; and in Wheeling, the fine arts department at Wheeling College is headed by a former associate, Steve Vasiliou.
When television came to Wheeling in the early 1950's, Holbert found a way to increase his reach — to influence thousands, perhaps not a completely as he did when he could reach a pupil in person, but nevertheless to touch off those first sparks that often led to greater appreciation of art.
Harry had already reached out to hundreds in working with Oglebay Institute, creating art clubs and outreach programs in the leadership program fostered by the Institute. But then he became art director at the new TV station, WTRF-TV.
He couldn't confine his activities to drawing title blocks and developing news film. To free his time for creative activities, he invented an automatic film processor and patented it. Holbert became "Uncle Harry" on his own television program and made being an artist look so easy that it is certain that many of his viewers followed his lead.
Of course, his own quick, deft touch and his marvelous imagination and ability — plus his obvious love for his life's work — earned him wide admiration and recognition. There was a bit of genius in the man and his facile touch and joyous approach warmed those who say him as he sketched or painted.
A display of Holbert's talents is in the lobby of WTRF-TV. It is an electronic mural made from over 30,000 pieces of glass cut by hand and is the only one of its kind in the entire world.
---
Text and pictures provided by Wheeling Hall of Fame. Service provided by the staff of the Ohio County Public Library in partnership with and partially funded by Wheeling National Heritage Area Corporation.
Wheeling Hall of Fame Index | People of Wheeling Home | Wheeling History Home | OCPL Home