Wheeling Hall of Fame: James Howard Kindelberger
1895-1962
Business and Industry
---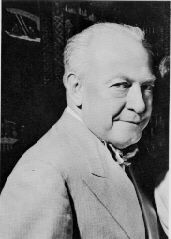 Inducted 1980
A biography of James H. Kindelberger would trace the history of American aviation - from the wood-and-cloth craft of World War I to the sophisticated Apollo spacecraft that took our astronauts to the moon. Engineer and designer of military and civilian aircraft, this Wheeling native became one of the most influential men in his field. He was a pioneer in the development of nuclear reactors, guided missiles and rockets. His contributions resulted in his induction into the Aviation Hall of Fame and the International Aerospace Hall of Fame.
Born in 1865, the son of Charles F. and Rose Ann Kindelberger, he went to Wheeling High School and to the Carnegie Institute of Technology. He earned his wings as a flier in World War I and set out to make aviation his lifetime work.
From the Signal Corps, he went to the Glenn L. Martin Company in Cleveland, where he became assistant chief engineer. In 1925, he joined the Douglas Aircraft Company as chief engineer. He designed many military and civilian aircraft, including the famed "DC" series.
Subsequently, he became president of North American Aviation and designed and produced BT-9 trainers, observation planes and BC-1 combat trainers.
By 1941, Kindelberger had developed mass production techniques for airplanes and North American was able to produce more than 42,000 planes for World War II.
Under Kindelberger's leadership as chairman of the board at North American Aviation, the firm developed and produced the Savage Navy bombers, the B-45 Tornado bombers, and the F-86 Sabrejet swept-wing fighter. Later, the company built the supersonic F-100 Supersabre fighters, the rocket-powered X-15, and the XB-70 bombers.
Kindelberger then led his company into the field of reactors, guided missiles and engines for the Atlas, Thor, Jupiter, and Saturn V rockets.
After his death in 1962, the James Howard Kindelberger Memorial Laboratories at Thousand Oaks, Calif., were dedicated in his memory. The laboratories were created for research into fundamental aviation science.
---
Text and pictures provided by Wheeling Hall of Fame. Service provided by the staff of the Ohio County Public Library in partnership with and partially funded by Wheeling National Heritage Area Corporation.
Wheeling Hall of Fame Index | People of Wheeling Home | Wheeling History Home | OCPL Home