Wheeling Hall of Fame: Judith A. Herndon
1941-1980
Public Service
---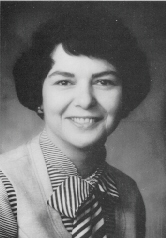 Inducted 1984
"Direct and articulate, respected and admired, controversial and outspoken, bright and able, courageous and fearless."
Those words were part of a two-page tribute paid to Judy Herndon in the 65th West Virginia Legislature's Manual of the Senate and House of Delegates.
Trained in law and recognized as an able lawyer, she distinguished herself by her legislative accomplishments in a career in public office that was ended too soon by her death at the age of 39 on November 19, 1980.
This was no mundane politician. In her four years as a member of the House of Delegates from Ohio County and six as a senator from the first senatorial district, she achieved recognition for outstanding service to her state and her district. She was a leader for tax reform, sunset legislation, sexual assault legislation and in attempts to curb the powers of bureaucratic government agencies.
Born June 5, 1941, and educated at St. Michael's Grade School and Mount de Chantal Visitation Academy, she attended Mary Washington College of the University of Virginia for two years and then transferred to Duke University, where she was graduated with a degree of Bachelor of Arts in Economics in 1963. She entered Northwestern University School of Law, transferred to West Virginia University College of Law and received her Juris Doctor degree in 1967.
She joined her father, Richard G. Herndon, in the practice of law in Wheeling and was a member of the law firm he headed.
Judy Herndon's career in politics began with her appointment to the House of Delegates on June 2, 1970. She ran for the House in her own right in the fall of that year and was re-elected in 1972.
On July 3, 1974, she was appointed to the State Senate. She ran for re-election in 1978. She never lost an election, although a member of a minority party. She was considered a conservative on fiscal matters but not in terms of civil liberties.
Odell H. Huffman, himself a state senator, in an editorial published in "The Princeton Times," wrote, in part, "Had she lived, she might have been West Virginia's first woman governor, had she chosen that goal. But her destiny of service was not higher office. It was to inspire, by her example of courageous integrity, the lives of many.
"The example she set was a model of rectitude in public service. When she felt strongly about an issue, there was no fear in her. No pressure group, whether it was management, labor, public employees, public figures or political organizations could intimidate her. Notwithstanding Senator Herndon's strong will, she was a concerned, compassionate, warm and lovely lady."
Miss Herndon, who served on the boards of numerous community organizations, was a member of the committee on rules of the State Senate at the time of her death and the only woman accorded that honor. In a survey conducted in 1978 by "The Charleston Gazette," she was rated as the most effective of state legislators.
---
Text and pictures provided by Wheeling Hall of Fame. Service provided by the staff of the Ohio County Public Library in partnership with the Wheeling Hall of Fame Committee.
Hall of Fame Index | People of Wheeling Home | Wheeling History Home | OCPL Home