Wheeling Hall of Fame: Robert E. Lee Strider II
1917-2010
Education and Religion
---
Inducted 1982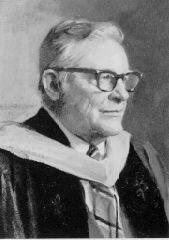 The 1982 inductions in the Wheeling Hall of Fame must be unique among Hall of Fame inductions across the country in that it includes a father and son — the Rt. Rev. Robert E. L. Strider, the third Episcopal Bishop of the Diocese of West Virginia, and Dr. Robert E. L. Strider II, who served for 19 years as president of Colby College.
Dr. Strider was born in Wheeling and attended Linsly Institute, but left the city at an early age to achieve national prominence as a scholar of literature and ultimately as president of Colby College in Waterville, Maine.
Colby is a 169-year old liberal arts college with an enrollment of 3,000 men and women.
During the nearly two decades of his administration, President Strider achieved dramatic growth in financial resources at Colby with the strengthening and expansion of academic programs.
The college's endowment tripled to $26 million and investment in the physical plant on the 900-acre campus doubled to $21 million.
Dr. Strider graduated from Harvard University in 1939, received his A. M. in 1940 and his Ph.D., also from Harvard, in 1950. His academic specialty is English literature in the seventeenth century but he is an expert in many other facets of literature.
During World War II, Dr. Strider served as a lieutenant in naval communications. Prior to his military service, he was an assistant in undergraduate courses at Harvard and Radcliffe.
From 1946 to '57, Dr. Strider was on the faculty of Connecticut College at New London. Then he was appointed to the faculty at Colby. He became president of Colby in 1960.
Dr. Strider is author of "Robert Grenville, Lord Brooke", a biographical and critical study of a 17th century Puritan writer and public figure.
In recognition of the contributions the Striders made to Colby, the Board of Trustees in 1977 voted to name the theatre in a new performing arts center for Dr. and Mrs. Strider. Honorary doctorate degrees were conferred on Dr. and Mrs. Strider in 1979 and Dr. Strider was named President Emeritus. Since his retirement at Colby, Dr. Strider has been associated with Wentworth Institute of Technology in Boston and last September he was named to direct the new College of Arts and Sciences there.
Honors that have come to Dr. Strider during his career are many. He was a Phi Beta Kappa, a fellow of the American Academy of Arts and Sciences, received the Distinguished Service Award from the Maine State Bar Association and was the recipient of 11 honorary degrees.
As it should be for the son of a bishop, R. E. Strider II has been active in the Episcopal organization. He has also been involved in political and civic work. He served on numerous commissions on education, civil rights, public policy, and the humanities.
(Robert E. Lee Strider II passed away November 28, 2010.)
---
Text and pictures provided by Wheeling Hall of Fame. Service provided by the staff of the Ohio County Public Library in partnership with the Wheeling Hall of Fame Committee.
Hall of Fame Index | People of Wheeling Home | Wheeling History Home | OCPL Home