Wheeling Hall of Fame: Samuel S. Bloch
1850-1937
Business and Industry
---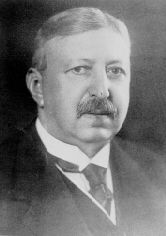 Inducted 1982
Samuel S. Bloch was a commanding figure in the civic and industrial life of Wheeling.
He and his brother, Aaron, were co-founders of Bloch Brothers Tobacco Co. and conceived a product, "Mail Pouch:, which was to make the leaders in their industry. They took scraps of tobacco from their cigar and stogie making, added a unique flavor, packaged it in a paper pouch with a catchy name and result was to be proclaimed on hundreds of barns across the nation — "Chew MAIL POUCH Tobacco, Treat Yourself to the Best.
"Up to that time, chewing tobacco was commonly pressed into a plug form. The loose scrap in a pouch was more convenient and gained favor among those who chewed as those who chewed became many.
Born in Wheeling in 1850 and educated in the local schools, S. S. Bloch studied law, was a court reporter and retail merchant. When they began utilizing the flavored scrap, Samuel and Aaron were in the wholesale grocery business and manufactured cigars and stogies. The "Mail Pouch" name came when they noticed the enthusiasm that the arrival of the U. S. mail pouches generated and thus introduced their product with an image already in favor.
The chewing tobacco business might have remained an adjunct to the wholesale grocery business had not the great flood of 1884 damaged a great deal of the Bloch merchandise. The brothers decided to specialize in chewing tobacco and moved to 40th and Water Streets, where the business continued to expand and where "Mail Pouch" continues to be manufactured.With it special flavor and popular name, "Mail Pouch" was the pioneer of brand-named, processed loosely package chewing tobacco. Bloch Brothers became and was for many years the largest manufacturer of this type of tobacco in the United States.As volume continued to grow, automatic packaging machines were developed and the company to this day is one of the industry leaders in manufacturing efficiency.
Aaron Bloch died in 1903 but Samuel Bloch continued to be active in the business until his death in 1937, his leadership of Bloch Brothers having extended more than 50 years.Throughout this time Samuel Bloch was active in the civic as well as the industrial life of Wheeling and contributed generously to the social and philanthropic enterprises of the community.
Mr. Bloch was a founding trustee of the City Hospital. He remained a trustee of it and its successor, Ohio Valley General Hospital, for 33 years and an honorary trustee until his death. One of his contributions to the hospital was the Bloch Pediatric Division, and as a tribute by his children to their mother and father, the Nurses' Home.
Samuel S. Bloch was a founder of the Highland Golf Club which later became Wheeling Country Club.
---
Text and pictures provided by Wheeling Hall of Fame. Service provided by the staff of the Ohio County Public Library in partnership with and partially funded by Wheeling National Heritage Area Corporation.
Wheeling Hall of Fame Index | People of Wheeling Home | Wheeling History Home | OCPL Home