Wheeling Hall of Fame: William E. Weiss
1879-1942
Business and Industry
---
Inducted 1980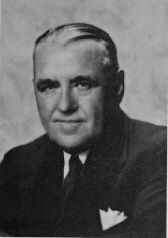 In 1900, William E. Weiss, a 21-year-old graduate of the Philadelphia College of Pharmacy, owned a formula for a patent medicine called Neuralgyline.
With a high school friend, A. H. Diebold, of Canton, Ohio, Weiss formed a partnership to peddle the medicine within horse-and-buggy range of Wheeling.
From that beginning has grown the Sterling Drug Company, the world's largest manufacturer of proprietary remedies. It operates over 50 plants and over 100 sales, service, and branch offices throughout the world. Eighty-seven countries are served by Sterling and its subsidiaries.
In 1942, when he died in an automobile accident at Harbor Springs, Mich., Weiss had served as chairman of the board, general manager and director of Sterling Products, Inc., president and director of the Bayer-Semensan Co., director of the American I.G. Chemical Corp. and president of Drug, Inc. He had also founded American Home Products Company.
Weiss was born in Canton. The first Neuralgine was sold in Sistersville, where he was a pharmacist and chemist at Hill Pharmacy. However, the partnership of Weiss and Diebold decided to move to Wheeling, where the Neuralgyline Co. was established with capital of $25,000. The business occupied two small rooms on the second floor of an old building. First-year sales amounted to $10,000.
The partners worked in the plant three days a week to make their product and sold it door-to-door in rented buggies three days a week. Special board meetings were called to make such decisions as hiring a stenographer at $5 a week, the purchase of a safe, and the installation of a telephone.
From such humble beginnings, a drug manufacturing empire was built.
William Weiss was married to Helena Schwertfeger of Wheeling. The couple had a son, William E. Weiss, Jr., and a daughter, Madelyn Elizabeth (Mrs. Henry L. Kinnucan).
---
Text and pictures provided by Wheeling Hall of Fame. Service provided by the staff of the Ohio County Public Library in partnership with the Wheeling Hall of Fame Committee.
Hall of Fame Index | People of Wheeling Home | Wheeling History Home | OCPL Home