Wheeling Hall of Fame: Wilbur S. Jones
1909-1977
Business, Industry and Professions
---
Inducted 1980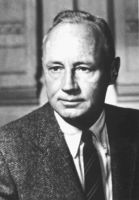 If there is one descriptive name for Wilbur Stone Jones, it must be that of "Leading Citizen." Born into a family of means, he did not rely on that fact to make his mark. Instead, throughout his life, he was a citizen imbued with a social consciousness and public responsibility toward his city. He gave freely and willingly of his many talents and abilities. He served in all facets of community life, using his natural talent for organization and his ability if quiet persuasion to bring about development of the natural assets of the area.
Jones was born in Fort Ethan Allen, Vermont, September 21, 1909, the son of James Sumner and Marguerite Sands Jones. He graduated from Linsly Military Institute, Hill School, the U.S. Military Academy, and the Harvard Business School. In World War II, he served in the European Theatre with the 65th Artillery. While in the service, he was decorated with the Legion of Merit, Bronze Star, and Air Medal. He returned to Wheeling as a full Colonel and resumed his position as vice-president and general manager of Stone & Thomas. He served as chairman of the company from 1969 until his death in 1977. During his tenure, the company that owned the largest department store in the city expanded to a state-wide operation.
To list the organizations with which Wilbur Stone Jones was concerned is to name practically all those in the town. He headed the Wheeling Park Commission and was vice-president of the Ohio Valley General Hospital and of the Wheeling Area Conference on Community Development.
---
Text and pictures provided by Wheeling Hall of Fame. Service provided by the staff of the Ohio County Public Library in partnership with the Wheeling Hall of Fame Committee.
Hall of Fame Index | People of Wheeling Home | Wheeling History Home | OCPL Home