Wheeling Hall of Fame: Doc Williams
1914-2011
Fine Arts
---
Inducted 1984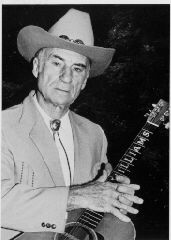 He was born Andrew John Smik on June 26, 1914, in Cleveland, Ohio. However, he has become known to thousands upon thousands of country music fans as Doc Williams.
Associated with the WWVA Jamboree since 1937, Doc is an institution in Wheeling and a living symbol of pure, basic country music. Moreover, he is a familiar and beloved entertainer to loyal fans as far away as England and various parts of Canada, where he has made personal appearances, as well as in the United States — from Maine to Florida and a lot of places in between.
He and his wife Chickie have been made honorary citizens in Maine, Vermont and New Hampshire. In 1983, Doc was one of the entertainers enshrined in WWVA's Walkway of the Stars. The oldest living member of Jamboree USA, he has been by gubernatorial proclamation hailed as "West Virginia's Official Country Music Ambassador of Good Will."
When he was only two years old, the Smik family moved from Cleveland to Kittaning, Pa., area. Young Andrew went to school in Tarrtown, Pa., learned to play cornet by note from his father, taught himself to play guitar, harmonica and accordion by ear, and began playing at square dances.
Eventually, he dropped out of high school to work as a coal miner at something less than $1 a day.
Returning to Cleveland, Doc launched his career as a country music performer in 1933. Two years later he appeared on his first radio broadcast, an amateur hour on station WJAY.
That same year he moved to Pittsburgh and performed with groups on radio stations KQV/WJAS and WHJB, Greensburg, Pa. Soon he adopted the name under which he has become so well known and organized his own group, Doc Williams and the Border Riders.
Williams first appeared on the Jamboree in 1937and decided to make Wheeling his home. His first fan letter, addressed to "Buck Williams and the Border Riders," was from Jesse Wanda Crupe, a native of the Bethany, WV, area who wanted to hire the group to play for a square dance. When Doc saw Jesse Wanda, he nicknamed her "Chickie" because he thought she was a "cute chick." They were married in 1939.
In 1946, after the births of the three daughters, Chickie Williams joined her husband's radio act.
In '40, Williams and his wife moved to Memphis and he appeared on WREC radio there while touring through Arkansas, Mississippi, Missouri and Tennessee. He was asked by founder Harry Stone to join the Grand Ole Opry but then Chickie was on her way back to Wheeling to have her first child. Doc soon followed.
From 1940 to '42, Williams operated the airport at Yorkville, Ohio. During World War II, he worked for a time at Frederick, Md., and spent a short hitch in the Navy before the war's end.
Then it was back to WWVA, back to touring and "selling 200,000 guitar courses on the air."
The song most closely associated with Doc is an old English folk song, "My Old Brown Coat and Me." One of his biggest hits was "Roses are Blooming."
— Corrections supplied by Doc Williams and Barbara Smik
---
Text and pictures provided by Wheeling Hall of Fame. Service provided by the staff of the Ohio County Public Library in partnership with the Wheeling Hall of Fame Committee.
Hall of Fame Index | People of Wheeling Home | Wheeling History Home | OCPL Home