Wheeling Hall of Fame: Earl Summers, Jr.
1916-2004
Music and Fine Arts
---
Inducted 2004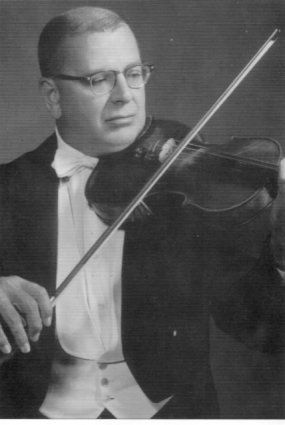 Designated "Wheeling's Mr. Music" by Dr. Edward Wolf, lifelong Wheeling resident Earl Summers, Jr. was honored by the City of Wheeling on August 23, 1990, when Mayor Thomas J. Baller proclaimed that day "Earl Summers, Jr. Day." The occasion was a special tribute concert by the Wheeling Symphony Orchestra marking Summers' retirement from the orchestra which his father and he, at the age of 12, had joined as charter members in 1929. Becoming concertmaster and personnel manager of the orchestra in 1948, he became concertmaster emeritus in 1990, having played under every conductor of the WSO except for the current music director, Andre Raphel Smith.
Summers also shared his fine talents with several other regional orchestras. He served as first violinist with the Columbus Symphony Orchestra from 1964 to 1979, and then, from 1979 to 1990, he played first violin for the Pittsburgh Opera Orchestra and the Pittsburgh Ballet Orchestra. From 1981 to 1990, he was also concertmaster of the Pittsburgh Civic Light Opera Orchestra.
Early in his career. Summers played for the Virginia Theater Orchestra and the Capitol Theater Orchestra, both led by his father. Only three years after his debut with the Wheeling Symphony Orchestra, Summers brought his skills to radio as a member of WWVA's staff orchestra from 1932 to 1948. For eight years during that period, he served as the orchestra's concertmaster for the nationally broadcast "It's Wheeling Steel" program. This show was broadcast nationally on the NBC Blue Network, and they made Victory Discs for the Armed Forces. At the end of his career in radio, he became first violinist of the Caldwell String Quartet, named for Wheeling Symphony founder Eleanor Caldwell and he stayed with the group for the next 55 years.
Summers also kept together 15 members of the Wheeling Steel Orchestra in order to form a performance group of his own. Called the Earl Summers Jr. Orchestra, they played from 1945 to 1964 for local dances in the tri-state area including Saturday night dances at Oglebay's Pine Room. In an interview in 1990, Summers recalled "I have done the gamut, but I'm more at home with jazz." He recalled his most memorable jazz experience: playing for Mel Torme and Michelle LaGrand at Heinz Hall in Pittsburgh. In a 1981 article in the Wheeling News-Register, Gladys Van Horne noted the "Summers has played with all the big names — Itzhak Perlman, Rubenstein, Roberta Peters, Joan Sutherland, Marian Anderson, Leontyne Price, Beverly Sills, Robert Merrill, Richard Tucker, Liberace, Tony Orlando and Dawn, Tom Jones, Glen Campbell — to name a few."
After his retirement from the WSO in 1990, Summers continued as a freelance musician playing with string quartet concerts, shows and miscellaneous engagements. He also helped to bring together musicians for community events at places like West Liberty State College. Wheeling Jesuit University and St. Matthew's Episcopal Church.
Born in Wheeling in 1916. Summers attended local schools and graduated from Wheeling High School. His grandfather, Silas James Summers, was from a Scottish family and played trombone in the first Court Theater Orchestra. His father, Earl Summers, Sr., was a violinist and noted area orchestra leader as well as his son's first violin teacher. Earl Junior recalled playing his first solo with his next teacher. Edward Blumenberg, director of the German Beethoven Singing Society, in the old Columbia Club in center Wheeling.
A less well known aspect of Summers' life is that when he graduated from high school, with the Depression in full swing, he was employed at Bloch Brothers Tobacco Co. as an office boy, working his way up to purchasing agent, a position he held until his retirement in 1981. When interviewed in 1990, Summers said that the Blochs were supportive not only of his music, but also the symphony, several executives serving as symphony board presidents.
Summers was a life member of Wheeling Local 142, American Federation of Musicians, and Pittsburgh Local 60-471. He was president of Local 142 from 1983-1998 and then became president emeritus.Published reports indicate that, at one time, four members of the Summers family played together in the WSO: Earl Sr. and Earl Jr. and two members of the third generation - Earl Jr.'s son Rick. a clarinetist, and his son Marc Allen, a percussionist.
Informed of his selection to the Hall of Fame shortly before his death in August 2004, Earl is survived by his widow. Mary and sons John, Rick and Marc Allen, and three grandchildren.
---
Text and pictures provided by Wheeling Hall of Fame. Service provided by the staff of the Ohio County Public Library in partnership with the Wheeling Hall of Fame Committee.
Hall of Fame Index | People of Wheeling Home | Wheeling History Home | OCPL Home