Wheeling Hall of Fame: John B. "Jay" Handlan
1928-2013
Sports and Athletics
---
Inducted 2015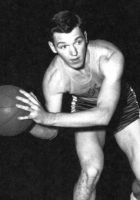 John B. "Jay" Handlan left his mark in the sports world as one of the all-time most prolific basketball scorers in major college history.

The 1946 Triadelphia High School graduate became only the third major college player to score more than 2,000 career points. He capped his four-year, 94-game Washington & Lee career on March 1, 1952, by scoring 15 points against Southern Conference rival West Virginia in his final game to reach the 2,002 point mark. The 6-foot-2, 190-pound forward averaged 21.3 points a game for his career at the Lexington, Va., college.

Handlan's most productive year was as a junior when he averaged 26.2 points a game to nose out conference rival, All-American Mark Workman of West Virginia University, for second place nationally. He scored a school, and Southern Conference, record 66 points (49 in the first half) against Furman – then the third highest-ever mark by a major college player. In that game, he took 71 goal attempts (made 30), which remains the oldest NCAA Division 1 record. He also led the nation in free throw accuracy as a junior with an 86.0 per cent mark and set an NCAA record with a perfect 18-for-18 from the free throw line vs. Virginia.

Handlan's scoring marks for season and career average remain the records at Washington & Lee, while his total points are No. 2 in school history behind Dom Flora's 2,310. Handlan was ranked in the Top 16 in the nation in scoring all four seasons at W&L. He was twice featured for his scoring records in the nationally syndicated "Ripley's Believe It Or Not" newspaper feature.

Handlan earned Helms Foundation All-America second team honors as a junior and was three times an honorable mention All-American. He twice was All-Southern Conference and four times earned AllVirginia college honors. He was team captain as a junior and senior and was inducted into the Washington & Lee Sports Hall of Fame in 1990.

As a college senior, he decided to become a multi-sport athlete and was a kicker-punter for the Generals. In the 1951 upset of unbeaten Virginia, he kicked all six extra points. He was offered a tryout as a kicker with the Cleveland Browns. He also lettered in track.

Handlan was drafted in 1952 by the Indianapolis Olympians of the National Basketball Association but opted to play in the National Industrial Basketball League for the Akron Goodyear Wingfoots. The NIBL attracted many college standouts since they provided full-time jobs in addition to the professional contracts for the athletes. Handlan played four years in the NIBL and earned league All-Star honors in 1954 when he led Akron in scoring with a 12.4 norm.

He was born February 2, 1928, in Wheeling, and the family resided in the Woodsdale and Highland Park areas. After attending Linsly Military Institute as a freshman, Handlan enrolled at Triadelphia for his final three years. He earned 12 varsity letters in four sports – three each in basketball, football and track; two in tennis; and one in swimming. In basketball, he earned All-City and All-OVAC honors and was honorable mention All-State. After high school, he served three years in the U.S. Army before enrolling at Washington & Lee.

After his athletic career ended, he eventually became president of one of the nation's largest technical service firms in Philadelphia while residing in Haddonfield, N.J. Handlan joined Day & Zimmerman in 1966 as an H.L. Yoh Co. division production manager. He remained with H.L. Yoh for 25 years and retired as the company president and board member of Day & Zimmerman in 1991. He passed away on January 10, 2013.
---
Text and pictures provided by Wheeling Hall of Fame. Service provided by the staff of the Ohio County Public Library in partnership with the Wheeling Hall of Fame Committee.
Hall of Fame Index | People of Wheeling Home | Wheeling History Home | OCPL Home