Wheeling Hall of Fame: Jule Rivlin
1917-2002
Sports and Athletics
---
Inducted 1980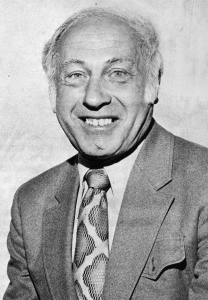 Jule Rivlin was one of the basketball greats of his era. As ball-handler and shot-maker, he was a magician. A fiery competitive spirit and a brilliant basketball mind helped make him an outstanding coach, as well as a colorful, crowd-pleasing player.
Born February 2, 1917 in Washington, Pennsylvania, the son of Daniel and Celia Rivlin, he came to Wheeling as a teen-ager and was a track and basketball star at Triadelphia High School. In 1935, he won both the 100- and 220-yard dashes in the state high school track meet. When "Riv" was a junior in high school, Triadelphia won 20 straight games before a two-point loss to Weirton in the regional tournament.
At Marshall College (now Marshall University), Rivlin twice led the Thundering Herd to Buckeye Conference championships (1938 and 1939) as a player, and later coached the Big Green to a Mid-American Conference title. During his senior year, "Riv" tallied 563 points and was second in the nation in scoring to Hank Luisetti as he sparked Marshall to a 26-3 mark. He was picked as a small-college All American, and veteran coach Cam Henderson acclaimed his ace, particularly adept as middle man on the fast break, as "the greatest player I ever coached."
Rivlin went on to the Akron Goodyears, an AAU team, for one year before entering the service in World War II. He was player-coach for the Fort Warren, Wyoming, team, which went to the semi-finals of the national AAU tourney.
Following the war, the Wheelingite joined the Toledo Jeeps of the National Basketball League as player-coach. He has said that his greatest thrill in basketball came at the 1947 World Professional Invitational Tournament at Chicago Stadium, where he was named the most valuable player. His team advanced all the way to the finals before losing to Indianapolis.
Subsequently, Rivlin returned to Wheeling as player-coach of the professional Wheeling Blues. He also coached at McKinley Vocational High School. His Blues won three All-American Basketball Conference titles.
Also active in baseball as an umpire and a president of the Intelligencer League, he realized a long-time ambition when named as coach at Marshall in 1955. In his first year in command, the Herd won the Mid-American Conference title and an NCAA tournament berth. Rivlin remained at Marshall until the end of the 1963 season. He finished his coaching stay there with 100 victories against 88 defeats. Hall Greer, who was to become one of the greatest stars of the NBA, was one of his players.
In 1972, Rivlin was inducted into the West Virginia Sports Hall of Fame. He is now associated with the Zionist Organization of America in Los Angeles.
---
Text and pictures provided by Wheeling Hall of Fame. Service provided by the staff of the Ohio County Public Library in partnership with the Wheeling Hall of Fame Committee.
Hall of Fame Index | People of Wheeling Home | Wheeling History Home | OCPL Home