Wheeling Hall of Fame: Marc Harshman
1950-
Music and Fine Arts
---
Inducted 2013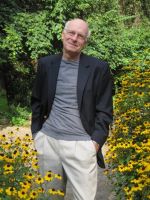 Poet, children's book author, and storyteller Marc Harshman was named West Virginia's seventh Poet Laureate on May 18, 2012, and the Wheeling resident became the first to hold that title form the northern part of the state since the position was created in 1927.

"I'm pleased Marc has accepted this unique opportunity to serve as poet laureate," Gov. Earl Ray Tomblin said in a statement. "Whether it's one of his children's stories or a prose poem, Marc's creativity serves as a reminder of the immeasurable talent of West Virginia's authors. I hope, in this new capacity, he will continue to challenge himself and inspire a new generation of writers."

Harshman, a former resident of Moundsville who relocated to Wheeling in 2001, was born in Randolph County, Ind., and has spent most of his adult life in the Wheeling area with his wife, children's author Cheryl Ryan, and daughter, Sarah. He earned his bachelor's degree at Bethany College, a master's degree in religion at Yale University Divinity School and a master's degree in English at the University of Pittsburgh.

Harshman says the culture of West Virginia and his fellow writers throughout the state continue to influence his work. "It's truly surprising how many great authors we have for such a small state. We have a very vibrant, healthy community of writers of all genres here in West Virginia, so it's a true honor for me," he said. "I grew up as a farm boy, and I've always found myself very welcomed here. There's a sense of community here regardless if you live in a rural or urban area, and that sense of community is very important to my work."
The author's books help teach children life's lessons, covering a variety of subjects form the difficulties that come with moving to a new neighborhood to living with a loved one who struggles with addiction. One book, Only One, which promotes a message of peace and unity, was featured as a Reading Rainbow review title on PBS TV. Harshman's poetry, though, is separate from his children's work. Harshman has published poems in dozens of journals and anthologies. In addition to receiving a poetry fellowship (2000) and a fellowship in children's literature (2008) from West Virginia Commission on the Arts, as well as a fellowship from the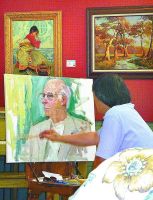 University of Minnesota (1994), which he used to research Scandinavian myth and folklore, Harshman has been nominated for a Pushcart Prize and has won a Literal Latte Journal award for his prose poems. Other honors include a 1995 Smithsonian Notable Book for Children prize (for Th e Storm) and a Parent's Choice Award. He was 1995 West Virginia English Teacher of the Year. His prose poem "In the Company of Heaven" won a Newport Review fl ash fi ction contest.


Beyond three chapbooks of poetry, recently published is a full-length collection, "Green-Silver and Silent," spanning 30 years of work. He's been an educator in area public schools, a frequent lecturer and workshop leader, and holds an honorary Doctor of Letters from Bethany College recognizing his life's work as a poet and children's author.

A critic has written this about Marc Harshman: Place — his childhood in Indiana, his long residency in West Virginia, and his travels abroad — exerts a strong influence in Harshman's work and roots it. His three decades in West Virginia, Harshman says, are "a singular blessing" to his writer's life.
---
Text and pictures provided by Wheeling Hall of Fame. Service provided by the staff of the Ohio County Public Library in partnership with the Wheeling Hall of Fame Committee.
Hall of Fame Index | People of Wheeling Home | Wheeling History Home | OCPL Home