Wheeling Hall of Fame: Robert C. Hazlett
1910-1996
Business, Industry, and Professions
---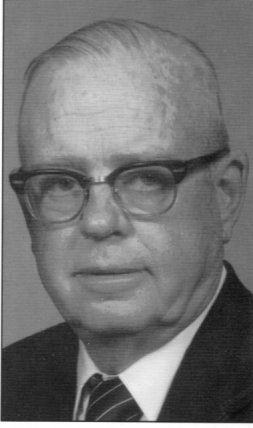 Inducted 2004
Wheeling Banker Robert C. Hazlett helped change the face of banking in West Virginia. Under his leadership, Wheeling Dollar Bank, which later became WesBanco, opened the Ohio Valley's first drive-in facility in 1951. In 1963, he helped organize the first data center to be placed in use by a West Virginia bank. The Wheeling Dollar Savings and Trust Co. continued to grow under his leadership and, in 1976, he unveiled a significant addition to the city's skyline - a $6 million, eight-story building that is now known as WesBanco Plaza. Hazlett was also a strong supporter of the 1982 West Virginia law that allowed limited branch-banking in the state for the first time. Prior to that legislation, banks were only allowed to have one branch office, which was required to be located within 2,000 feet of the bank's headquarters.
The son of Robert and Anna Cummins Hazlett, Robert C. Hazlett, was born in Wheeling in 1910 and attended the Linsly Military Institute. He went on to receive a civil engineering degree from Cornell University in 1931. Returning to Wheeling in 1931, he became a bookkeeper at the Dollar Savings and Trust Co. His father - a second generation Wheeling resident, former Wheeling Postmaster and a civil engineer - was president of the bank at that time. In a history of the bank, Hazlett wrote: "Today the bank operates under the same charter that was issued in 1870 to The German Bank," the first president of which was Augustus Pollock. In 1933, when the bank merged with the Wheeling Bank and Trust Co. to form the largest bank in West Virginia, Wheeling Dollar Savings and Trust Co., Hazlett became head of the bank's trust department, a position he would hold for 25 years. He became president of the bank in 1958 and later served as chairman of the board and executive committee. After 51 years in the banking industry, he retired from Wheeling Dollar but remained active as a consultant and board member.
In addition to his service with Wheeling Dollar, Hazlett's business contributions included serving as president of the West Virginia Bankers Association; vice president of the Wheeling Area Conference for Community Development; a board member of both the Progressive Bankers Association and the Morris Plan Association; and a director for the following organizations: Centre Foundry, Fostoria Glass, Pittsburgh Federal Reserve Branch, Scott Lumber Co., Wheeling Stamping Co., and the Wheeling Area Chamber of Commerce.
Hazlett has been nominated to inclusion in the Wheeling Hall of Fame under the category of Business, Industry and Professions but, as members of that committee pointed out, he could also have been nominated under the category of Public Service. In 1952 he was selected citizen of the year and his many civic contributions included serving as president of the Ohio County Board of Education: president and member of the LinslyMilitary Institute Board of Trustees; president and director of the Wheeling Society for Crippled Children; president of the Woodsdale Children's Home; Chairman of the First United Presbyterian Church's board of trustees; exalted ruler of the Wheeling Lodge, BPO Elks; a trustee for both Reynolds Memorial Hospital andOhio Valley Medical Center; and a member of the advisory boards of Bethany College, West Liberty State College and Wheeling College (Wheeling Jesuit University). After his retirement in 1982, he kept working at one of his passions, a labor of love, with his longstanding involvement with the Wheeling Park Commission.
In a newspaper article entitled "Robert Hazlett Marks 50 Years", the writer stated "Mr. Hazlett believes the old values of family, church, community and business are the values that count. He has a strong sense of self-reliance and a lively interest in anything that is for the betterment of his community."
Hazlett, who died in 1996, and his wife Susan Arbentz, whom he married in 1936, were the parents of five sons. Robert C. Jr., John, James, George and Thomas.
---
➤ Ohio County Public Library Archives collection: John Hazlett Family Collection of Wheeling Banking Records
---
Text and pictures provided by Wheeling Hall of Fame. Service provided by the staff of the Ohio County Public Library in partnership with and partially funded by Wheeling National Heritage Area Corporation.
Wheeling Hall of Fame Index | People of Wheeling Home | Wheeling History Home | OCPL Home