Wheeling Hall of Fame: Russell Goodwin
1893-1968
Sports and Athletics
---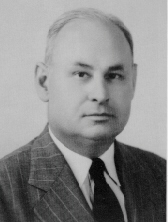 Inducted 1990
Russell B. Goodwin was a member of Wheeling City Council for 16 years (1935-51), was mayor of the city from 1943 to 1947 and practiced law in the community for nearly half a century.
However, despite his distinguished career as an attorney and public servant, it is in the field of sports that he won the recognition which brings about his induction into the Wheeling Hall of Fame.
Deservedly so because Russ Goodwin was a remarkable football player at Washington & Jefferson College when the small Western Pennsylvania institution was competing with the giants of the collegiate game and later earned a national reputation as a football official.
Born in Wheeling on Jan. 5, 1893, Russ Goodwin was educated in the city schools. He attended Wheeling High School, where he was a four-sports standout, although standing only 5 ft. 9 and weighing 145 pounds. He was captain and quarterback on the football team, forward in basketball, pitcher-outfielder in baseball and a sprinter and pole vaulter in track.
He went to Washington & Jefferson and starred on some of its greatest football teams.
During the three years (1912, '13, and '14) that he was the quarterback for the Presidents, they posted a record of 28 victories against four defeats and a tie. Moreover, they defeated the University of Pittsburgh three straight times.
The tie and three of Wash-Jeff loses came in 1912. The tie was with the famed Carlisle Indians, led by the storied Jim Thorpe.
In 1913, Wash-Jeff -- with Goodwin calling signals, doing the punting, much of the passing and returning punts -- not only went undefeated but led the nation in scoring with 347 points to the opposition's 13. Yale played the Presidents to a tie at New Haven but West Virginia University, Pitt, and Penn State were among the victims. Goodwin caught a pass for the only touchdown in the victory over Penn State.
In 1914, Coach Bob Folwell's Presidents defeated Yale, 13-7, with Goodwin throwing passes for both W. & J. touchdowns. The only loss sustained by the Presidents was to Harvard, 10-9.
Goodwin was also captain of the W. & J. basketball team and a pitcher on the baseball team. As a pitcher, he had the distinction of hurling a three-hitter against Michigan but unfortunately all three hits were home runs by a great George Sisler.
Upon graduation from college, the Wheeling native became head coach at Franklin College in New Athens, Ohio, but served only one year in that capacity before enrolling at Washington & Lee Law School. While attending law school, he helped the coaching staff at W. & L. and began a football officiating career that was to continue for almost 30 years. He also played some professional football with the Massillon Tigers.
Establishing his law practice in 1919, he branched out in officiating and did some coaching at Linsly Institute. Eventually, he began to work football in the Big Ten and Ivy League. He twice officiated the Army-Navy game, working in all three of the consecutive scoreless ties between Pitt and Fordham, officiated in the Rose Bowl game (Pitt vs. Washington) in 1937 and in the Cotton Bowl (Texas A. & M. vs. Fordham) in 1941.
During the 1920s, Goodwin developed into an excellent tennis player and became Ohio Valley champion.
---
Text and pictures provided by Wheeling Hall of Fame. Service provided by the staff of the Ohio County Public Library in partnership with and partially funded by Wheeling National Heritage Area Corporation.
Wheeling Hall of Fame Index | People of Wheeling Home | Wheeling History Home | OCPL Home