Wheeling Hall of Fame: Sister Joanne Gonter, VHM
1934-
Education and Religion
---
Inducted 2019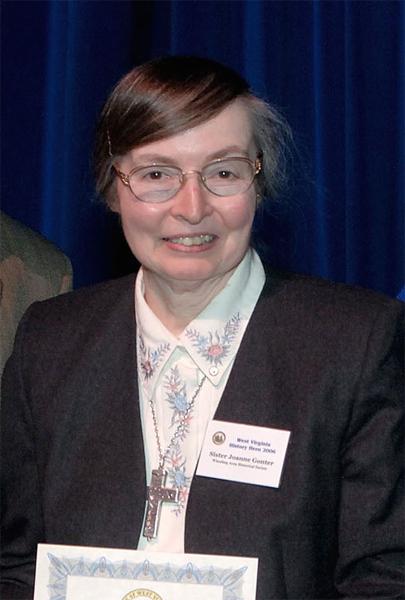 Sister Joanne Gonter was born in 1934 and grew up in Wheeling. After graduating from Mount de Chantal Visitation Academy in 1952, she entered the Sisters of the Visitation there. In 1959 she graduated from Wheeling College (now Wheeling University) and in 1968 received an MS from Marshall University. She taught at Mount de Chantal for 49 years, served two terms as superior of the community and since 1975 has been the Mount's Director of Alumnae Relations.

Academy enrollment declined, and in 2008 the eight remaining sisters voted to close its doors. With wisdom and grace Sister Joanne oversaw the process of informing students, parents, staff and alumnae and of determining the disposition of the buildings, property, and 160 years of accumulated treasures. In 2010 the sisters at the Mount, including Sister Joanne, moved to Georgetown Visitation Monastery in Washington, D.C., where she serves as a member of the board of directors and assistant superior of the community. The sisters have maintained their link to Wheeling and to the Mount de Chantal Alumnae Association. As a student at Saint Michael's grade school in Wheeling, where she took piano lessons from one of the Divine Providence Sisters at the school, she began a lifelong career as an accompanist for school productions, and now she is organist for daily Masses at Georgetown.
In August 1955 Sister Joanne enrolled in the first class at newly-founded Wheeling College as a chemistry major. Beginning her teaching career in the fall of 1959, classes she taught over the years included chemistry, logic, philosophy, physics and religious studies.

Changes in the Catholic Church after the Second Vatican Council led to significant changes for women religious. Direct involvement in activities of the Diocese of Wheeling-Charleston for Sister Joanne included membership in the Sisters Council and the seminary board of the Diocese of Wheeling-Charleston. Civic memberships included the Martin Luther King, Jr. Committee and the board of the City of Wheeling Hall of Fame.

In 1975 Sister Joanne and other sisters worked with lay associates to form a board of directors for Mount de Chantal. As mentioned above, although this group was very supportive, circumstances in Wheeling and elsewhere led to the closing of the school, which had been established in 1848, before the Diocese of Wheeling-Charleston (1850) and the state of West Virginia (1863).
In her distinguished career of teaching and service, Sister Joanne has received numerous awards. Named a West Virginia History Hero in 2006, she has received three awards from Wheeling Jesuit University: Distinguished Alumna in 1989, Rev. Clifford Lewis, SJ, Award in 1995, and the Ignatian Medal at the annual Gaudiosa celebration in 2016.

Sister Joanne Gonter continues to lead a life of service to God and others and through her many contributions and relationships has made Wheeling and the world a better place to live.
---
Text and pictures provided by Wheeling Hall of Fame. Service provided by the staff of the Ohio County Public Library in partnership with the Wheeling Hall of Fame Committee.
Hall of Fame Index | People of Wheeling Home | Wheeling History Home | OCPL Home