Wheeling Hall of Fame: Susan Cox Hogan
1949-
Public Service
---
Inducted 2015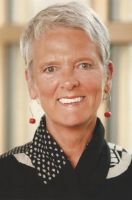 Susan Cox Hogan's public service has been intertwined with her professional career and her active volunteer life, which continues to this day. In particular she has championed social justice, economic development, community revitalization, and the arts at local, state, national, and international levels.

Susan and her husband, William N. Hogan, Jr., vvolunteered with the Peace Corps in Benin, West Africa from 1987 to 1991. Upon their return, Susan became executive director of the YWCA of Wheeling, a position she held for seven years. During her tenure, the Wheeling YWCA was awarded the Racial Justice Award by the national YWCA in recognition of the programs that Susan designed as Executive Director. In 1997 Susan attended the Fourth Annual Conference on Women in Beijing, China, and in that same year she was selected by the Claude Worthington Benedum Foundation as a Benedum Fellow to mentor the YWCAs in Clarksburg and Huntington during a two-year period. That same year Susan also served as a delegate to the historic Presidents' Summit in Philadelphia, convened by President Bill Clinton and former Presidents Jimmy Carter, Ronald Reagan, Gerald R. Ford, and George H. W. Bush. Subsequently Susan was active with West Virginia's Promise delegation and Ohio County's Promise.

Reprising their previous international service in 1999, Susan and Bill spent four months volunteering in the mountains of Slovakia for ACDI/VOCA, an economic development organization that fosters broad-based economic growth, raises living standards, and creates vibrant communities. They worked in the villages of Horna and Dolna Marikova near the Czech border.

Long an advocate for civil rights and social justice, Susan was recognized in 2000 for her efforts with the Living the Dream Award by the West Virginia Martin Luther King Jr. Holiday Commission. And for nine years Susan served on the Governor's Commission for National and Community Service by appointment of West Virginia Governors Gaston Caperton and Cecil Underwood.

Susan presently serves on the board of West Virginia Public Broadcasting, of which she has been a member for 26 years. Appointed by Gov. Joe Manchin, she continues to serve as a Commissioner for the Arts of West Virginia's Department of Culture and History. She also has served on the board of Wheeling's Youth Services System for more than 25 years. An active member of the Rotary Club of Wheeling, Susan recently led the effort to restore the Madison Square Garden at Madison Elementary School in memory of D. Milton Gutman and continues with Rotary's Read Aloud program for the children of Madison School.

Susan is active on the Mayor's Arts and Cultural Commission, overseeing multiple arts projects including murals in downtown Wheeling and the creation of the Pocket Park, Wheeling's first art installation on Main Street. She serves as chair of the Design Committee of Reinvent Wheeling and leads efforts to install art and develop green space. In 2012 she was honored with the first Community Spirit Award by Mayor Andy McKenzie for her efforts to revitalize downtown Wheeling. Susan also has served on the board of directors of the West Liberty University Foundation. She is a charter member of the board of directors of Grow Ohio Valley, sharing its mission to strengthen Ohio Valley communities, families, and residents through growing organic food, sustainable living, and economic development. Also, she is a member of the board of the West Virginia Music Hall of Fame. Susan is the former executive director of the Wheeling Symphony Society Inc., where she served for 17 years.

Susan's immediate family includes her sister, Sally Cox Fields; her son Michael Nelson and his wife, Melissa, and their children Raina and Koa; her husband Bill and his children Peggy, Neil, Tina, Brady, Liza, Andy; and grandson Thomas Hogan.
---
Text and pictures provided by Wheeling Hall of Fame. Service provided by the staff of the Ohio County Public Library in partnership with the Wheeling Hall of Fame Committee.
Hall of Fame Index | People of Wheeling Home | Wheeling History Home | OCPL Home