Wheeling Hall of Fame: Charles L. Ihlenfeld
1908-1989
Public Service
---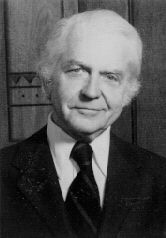 Inducted 1992
A Wheeling native, Charles L. Ihlenfeld served his community with an energy and passion sparked by his love for the city and its people.
He was mayor of the city and also served as Ohio County prosecuting attorney. A man of courtly grace, quiet-spoken and modest, he was nevertheless a strong force in many facets of community life.
A product of old Wheeling High School, Ihlenfeld graduated from West Virginia University in 1930 and from its College of Law in 1933. He practiced law for 56 years.
His public service encompassed city, county, state and federal jurisdictions. He became Ohio County prosecuting attorney in 1940, after four years as an assistant prosecutor. He was re-elected as prosecutor in 1944 while serving in the U. S. Army in World War II. His campaign that year was conducted by his wife, Maxine.
A member of Wheeling City Council from 1960 through 1967, he served as mayor from 1964 to '67. He was proud of the fact that the Market Plaza was completed while he was mayor and that two new city parking garages were established. Moreover, extensive improvements were done to the city cater system when he was in the mayor's chair.
Charlie Ihlenfeld, a leader of foresight and dedication, also was chairman of the Wheeling Creek Watershed Commission and worked vigorously on that project.
He was the first United States magistrate for the Northern District of West Virginia. He served in that capacity for eight years before retiring from the post.
A charter member of the Wheeling Hall of Fame Board, he was the second man to serve as its chairman.
He was a member of numerous service and community organizations and was once chairman of the Ohio County Democratic Executive Committee and president of the West Virginia Young Democrats.
He also served as chairman of the West Liberty State College Foundation, Inc. He belonged to numerous Masonic organizations and was past master of Nelson Lodge 30 AF & AM and was also a 32nd degree Scottish Rite Mason.
Ihlenfeld, who died in September 1989, was inducted posthumously into the St. George Tucker Brooke Society at the West Virginia University College of Law in ceremonies on Nov. 16, 1990.
While he was nominated for induction to the Wheeling Hall of Fame by the committee on public service, he might well have been considered by the committee on philanthropy. In his will, he left bequests to West Virginia University and to other interests, including his church, Zion Evangelical Lutheran of Bethlehem.
Moreover, after the death of his wife in 1984, he arranged for a gift to Oglebay Park to provide financing for a two-part expansion and renovation of the public dining area at Wilson Lodge.
Ihlenfeld had planned that gift as a memoriam to his wife but after his death, the couple's sons, William Ihlenfeld and Dr. Charles Ihlenfeld II, requested that the dining room be dedicated to both their parents.
Income from the Charles L. Ihlenfeld Fund at WVU finances an annual series of lectures presented by WVU College of Law.
---
Hall of Fame Index | People of Wheeling Home | Wheeling History Home | OCPL Home