Wheeling Hall of Fame: Chester R. Hubbard
1905-1984
Public Service
---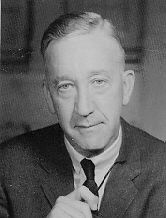 Inducted 1990
Chester R. Hubbard was skilled in the art of "gentle persuasion."
As a member of the minority party in the West Virginia House of Delegates for eight years and the State Senate for 12 years, he was well aware that calm reason garnered more votes than table-pounding or bombastic rhetoric.
Even if the loud-mouth approach were effective, it would not have been employed by Hubbard, who enjoyed a distinguished career in state politics and was also a community leader in the city of Wheeling. It wasn't his style.
A Wheeling native who was graduated from Lafayette College at Easton, Pa. and obtained his law degree from West Virginia University, Chester Hubbard practiced law for more than half a century. He was a determined, resolute man and quietly efficient.
He earned a reputation as one of the state's most influential legislators. He was named by his fellow Republicans as senate minority leader in his last term of office (1971-75).
A sensitive individual with wide interests, he was a stalwart supporter of legislation upgrading the state's public education system and had a role in the formation of the West Virginia Board of Regents. He led the fight to bring the liquor-by-the-drink issue to public vote, contributed to the improving of strip mining law and to Black Lung legislation, and was on the committee that authorized the pact with Pennsylvania which made the Wheeling Watershed Commission possible.
Chester Hubbard served his country in the Air Force during World War II and became a first lieutenant in the Judge Advocate General's Department.
On the home front, he was a thoroughly involved citizen, serving as president of such diverse organizations as the Wheeling Symphony Society, Wheeling Country Day School, Wheeling Council of Social Agencies, and the Children & Family Service Association.
He was also on the board of Ohio Valley Medical Center, Blue Shield, Woodsdale Children's Home, Iroquois Boy Scout Council, the Urban Renewal Authority, Seeing Hand Society, Ohio County Wildlife League, Oglebay Institute, Ohio County Mental Health Association, and the Community Chest Inc.
Hubbard, who with his wife Joan were parents of four daughters, was honored for his two decades of legislative service when he retired from the West Virginia State Senate in 1975.
A resolution cited his "great contributions to the people of West Virginia" and noted his "mild and unobtrusive manner" and those well-known powers of "gentle persuasion."
The resolution noted that as minority leader, he had not polarized the Senate but had helped move legislation "above party lines."
When he retired from the Senate, Hubbard noted that he had "work to do" back home. That he did. He continued to practice law in Wheeling, where he died on May 18, 1984.
---
Hall of Fame Index | People of Wheeling Home | Wheeling History Home | OCPL Home