Wheeling Hall of Fame: James Nelson Vance
1829-1913
Business and Industry
---
Inducted 2015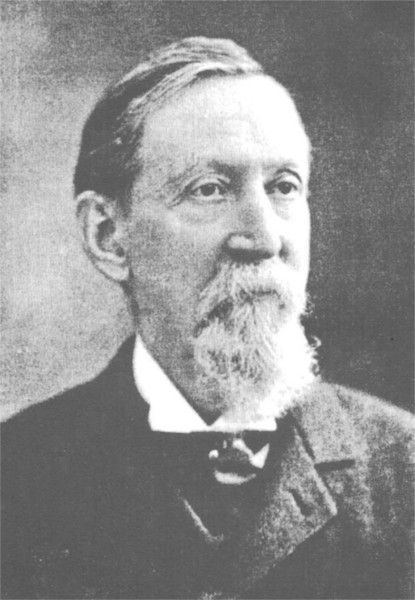 Lifelong Wheeling resident James Nelson Vance came to be known as one of Wheeling's "Captains of Industry."

Born in 1829 to James and Mary Waddle Vance on his family's farm near the intersection of National Road and Bethany Pike, Vance attended public schools and then entered a long and productive business career.

In 1853, at age 24, Vance started in the retail iron and hardware business on Monroe Street (now 12th Street.) Seven years later he joined O.C. Dewey and W.H. Russell to form a new firm of Dewey, Vance, and Co. During the Civil War, the firm manufactured much-needed railroad spikes and iron, which led to several expansions of the Wheeling Iron and Spike Works, making it, at that time, the largest factory of its kind in the world. In this same time period, Vance served as Captain of Company D, Fourth Regiment, Wheeling Militia.

After the war ended, the company began construction of a nail mill on the corner of Main and 24th streets, naming it the Riverside Mill. Vance served as president of the company for a quarter century. When the mill went into operation in 1867, there were 48 machines and 22 furnaces. Within three years, another 42 machines were added; a second factory later added another 134 machines. The company's capacity at that point was an amazing 10,000 kegs of nails per week.

A plant was added in Benwood in 1872, and in 1875 the company's official name became the Riverside Iron Works Co., with J. N. Vance serving as president. On June 11, 1884, the state's first Bessemer converter began operation at the Wheeling plant, marking the birth of the steel industry in West Virginia and changing the local focus from iron products to steel. Another plant was added in Steubenville two years later. Total Riverside payroll at the time amounted to $50,000 per month (the equivalent of more than $1.25 million today), with some 6,000 employees. A September 1886 Wheeling Daily Intelligencer article called the Riverside Iron Works "the leading manufactory of Wheeling and vicinity" with "two well-equipped blast furnaces of large capacity, a steel plant extensive enough to convert into steel the entire product of these furnaces, the largest nail factory in existence in the world, a complete bar iron mill, and the finest nail plant works in the country." The newspaper article adds that until shortly before 1886, "Wheeling and vicinity made considerably more than half the soft steel turned out in the country, and its production now (1886), including the Bellaire and Laughlin and Junction steel plants, fully half of that of the United States."

The tube works at Riverside manufactured steel steam, gas, and water pipes, with products reportedly sold to every civilized country in the world. The enlarged works became one of the most extensive and best equipped in the country, employing some 200 men. That portion of the works was sold to National Tube Co. in 1899 and was absorbed into United States Steel in 1901. Vance resigned as a director of the company at that time.

In addition to iron and steel interests, Vance was a founder or officer of several financial institutions and was involved in other business interests ranging from shoes to glass to insurance.

James Nelson Vance also was known for his philanthropy, in particular through major funding for the construction of Wheeling's YMCA building and his support for the YWCA and Ohio Valley General Hospital. His name lives on as the benefactor of Vance Memorial Church, built in memory of his parents. He married Lillie Edgerton McClellan in 1863; the couple had four children who survived to adulthood – sons Henry Edgerton, James Nelson, and William, and daughter Lillie.
---
Text and pictures provided by Wheeling Hall of Fame. Service provided by the staff of the Ohio County Public Library in partnership with the Wheeling Hall of Fame Committee.
Hall of Fame Index | People of Wheeling Home | Wheeling History Home | OCPL Home