Wheeling Hall of Fame: Rose Gacioch
1915-2004
Sports and Athletics
---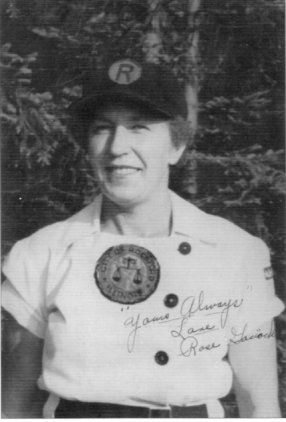 Inducted 2004
Visitors from Wheeling to the National Baseball Hall of Fame in Cooperstown, New York, will find a picture of a Wheeling native. Rose Gacioch. Gacioch, a pioneer in women's professional baseball and one of the inspirations behind the major motion picture "A League of Their Own", was mainly responsible for the long run of 11 seasons enjoyed by the All-American Girls Professional Baseball League which began during World War II. The organizer of the league was P. K. Wrigley, owner of the Chicago Cubs' Major League franchise, who believed that, with most of the top major league players away fighting the war, there was a place for women's professional baseball.
One of the league's top players, Gacioch starred on three championship teams for the Rockford, Illinois Peaches, setting several league records as both a hitter and a pitcher. During the 1946 season, Gacioch led the league in triples and batted .262. With averages of .294 in 1951, .285 in 1953, and a top average of .304 in 1954 when she was 38, she only struck out 162 times in almost 3,000 at-bats. Also in her final season, she recorded an "impressive total" of 13 home runs. As a pitcher, she won 94 games out of a total of 174 and her skill as an overhand pitcher led to the league's changing its rules in 1947 to allow overhand pitching.
While still in her teens. Gacioch had played with a touring team called the All-Star Ranger Girls in 1934 alternating between the outfield and pitching. Women's travel teams then were known as "Bloomer Girls" and were company sponsored clubs. When these teams began switching over to the less expensive game of softball. Gacioch also changed and spent time barnstorming around the Midwest on weekends. But then an opportunity to join the new All-American Professional Women's Baseball League came with a tryout at Pulaski Field in South Wheeling, two blocks from her home. The result was a return to baseball at age 29 as a member of the South Bend Blue Sox. In 1945, her rights were sold to the Rockford Peaches, a move that so angered the Blue Sox' Board of Directors that they passed a resolution limiting the club president's powers. During her first year in Rockford she set a league record of 31 assists from her outfield position, a mark she matched two years later. Her best year with the Peaches was 195 1, when she went 20-7, becoming the league's only 20-game winner. She pitched a no-hitter in 1953 and was voted the AAGBL All-Star team in 1952, '53, and '54. What she considered her best pitch was the curveball which she had learned from her brother Steve, the oldest of four Gacioch children and the only boy.
Between baseball seasons, Gacioch took whatever job she could find in Rockford. She worked at bowling alleys, peeled potatoes and even made cigars until it was time to break out the bats and balls. She almost married, but when her beau asked her to quit baseball, she balked and he walked.
Gacioch was born in Wheeling in 1915 and was raised by her mother Anna and her stepfather, Carl Markewicz. Her father had died before her birth and her mother died when she was only 16. That same year, she falsified her age in order to gain employment at Wheeling Corrugating, where her father had worked. She also joined the Little Cardinals, the boys' baseball team in Wheeling. She had attended St. Ladislaus Grade School, but the family financial situation had precluded high school for her. So, working in a factory during World War II, she read about the new women's baseball league being formed and announced to her fellow workers "I'm going to be on that team." When they suggested she was too old, she responded, "Just watch me!"
Interviewed just before her 87th birthday, Gacioch said, "I loved baseball ever since I was a kid." Calling herself a retired ballplayer, she was still attending reunions of the players in the league and proclaimed "I loved my life. I wouldn't want to change a thing."
The following year, honored by the Detroit Tigers, she threw out the ceremonial first pitch. Living in the Detroit area near a niece, she had been flooded with fan mail after the debut of "A League of Their Own," and she graciously answered each and every letter.
With other members of the Rockford Peaches, Gacioch is profiled in a book titled "The Girls of Summer", which traces the history of the AAGPBL.
Gacioch died September 9, 2004 in Clinton, MI.
▶ More about Rosie and her baseball career
---
Hall of Fame Index | People of Wheeling Home | Wheeling History Home | OCPL Home