Wheeling Hall of Fame: Sue Seibert Farnsworth
1940-
Public Service
---
Inducted 2019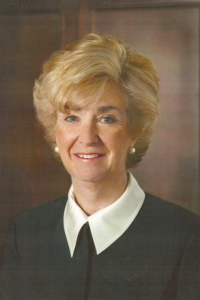 Sue Farnsworth is the daughter of the late George H. "Bud" Seibert, Jr. and Janice Boone Seibert. Born in Wheeling and educated in its public schools, she graduated from West Virginia University and its College of Law. Following in the footsteps of both parents and joined by her brother, she had a general practice of law in her hometown with an emphasis in the areas of wills and estates.
She holds memberships in the American Bar Association, the West Virginia State Bar Association, Ohio County Bar Association, American Bar Foundation, and the West Virginia Bar Foundation. She is a former member of the West Virginia Board of Law Examiners and the Estate Planning Council of the Upper Ohio Valley. Her law career has been recognized with the WVU College of Law's Justitia Officium Award and the State Bar's Kaufmann Award for her pro bono work. In 2017, the West Virginia Bar Association honored her with its Award of Merit.
Her public service to Wheeling and to West Virginia includes the following: Wheeling Park Commission, 1992 to present (vice president, 2009 to present), Oglebay Foundation Board of Directors, 1996 to present (secretary-treasurer, 1996 to 2017), Community Foundation of the Ohio Valley Board, 1997 to 2018 (president, 2013-14), Women's Giving Circle charter member, Wheeling Symphony Board of Directors (president, 1993-94, life director), and former member of the Wheeling Hall of Fame Board.
Sue Farnsworth is committed to the improvement and enhancement of education in the Mountain State. She held a seat on the WV Board of Regents from 1977-83, and was its first lay chair in 1980-81. At WVU, she sat on the Foundation Board of Directors from 1995-2010 and chaired the Foundation from 1999-2001. From 1986-94, she was a member of the Board of Advisors and its chair in 1989-90. In 1999, her alma mater awarded her its highest honor, the Order of Vandalia Distinguished Service Award; four years earlier WVU named her a Most Loyal Mountaineer. At home, she held a seat on The Linsly School Board of Trustees, and since 2014, enjoyed emeritus status. From 1984-90, she served on the Commission on Institutions of Higher Education of the North Central Association of Colleges and Schools. She was its chair in 1988-90 and earned its honorary award in 1991.
She has earned kudos from the WV Bar for her pro bono work and often worked "behind the scenes" to advance the work of other educators. She was especially helpful to President Clyde D. Campbell in establishing West Liberty University's Foundation. In 2011, the YWCA of Wheeling honored her at its annual Tribute to Women ceremony.
In this life of public service, Sue finds the time to serve on the vestry of Lawrencefield Parish Church and on the Sandscrest Episcopal Conference and Retreat Center Board.
She was married to the late Carlyle Farnsworth for 44 years, and they had one son, Thomas, a daughter-in-law, CJ, and a grandson, Holden. In June 2018, she married John W. Kepner of Wheeling.
She joins a distinguished list of Wheeling natives in the Public Service category of the Wheeling Hall of Fame, including her father George Seibert, Jr. They are the Hall's first father-daughter honorees.
Sue Farnsworth has spent her adult life working for the improvement of city and state, both as an attorney and a civic-minded Wheelingite. Her life stands as a testament of the good that one woman can accomplish.
---
Text and pictures provided by Wheeling Hall of Fame. Service provided by the staff of the Ohio County Public Library in partnership with the Wheeling Hall of Fame Committee.
Hall of Fame Index | People of Wheeling Home | Wheeling History Home | OCPL Home