Biography: Chuck Howley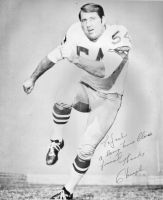 Chuck Howley was an All-State football player at Warwood High School (`54). He earned All-Southern Conference honors three times and Southern Conference Athlete of the Year (`57) at West Virginia University. He made WVU history by starring and lettering in five sports – football, track, wrestling, gymnastics and swimming. He won the Southern Conference diving championship in 1957.

Chuck was the first round draft choice of the Chicago Bears in 1958 and was traded to the Dallas Cowboys (`61) where he became a 6-time All-Pro linebacker, Super Bowl Champion and Super Bowl V MVP. Howley was the first defensive player and the only player from a losing team to be named MVP of a Super Bowl. Noted for his speed, Howley became one of the greatest linebackers to play the game.

Legendary Dallas coach Tom Landry once said, "I don't know that I've seen anybody better at linebacker than Howley." Chuck remembered his roots by honoring the top student athlete annually at Warwood High School with the "Chuck Howley Award." He was inducted into the West Virginia Sports Hall of Fame, the WVU Athletics Hall of Fame, the Ohio Valley Athletics Hall of Fame, the WVU Academy of Distinguished Alumni, the Ring of Honor at Texas Stadium and the Texas Sports Hall of Fame.

Chuck is a successful business owner in Dallas where he resides with his wife of 54 years, Nancy, also a Wheeling native. They are blessed with two children and six grandchildren. He enjoys raising foundation bred quarter horses at his ranch in nearby Wills Point, TX. (Text by the Howley family for Legendary Locals of Wheeling. Photo courtesy Jack Schuetz and Chuck Howley)
Note: Chuck Howley was finally enshrined in the Pro Football Hall of Fame in Canton, Ohio on August 5, 2023.
See video and photos from the installation of the Chuck Howley Welcome to Warwood sign.
See the Mayor's Chuck Howley Day Proclamation.
---
Wheeling Biographies Index | People of Wheeling Home | Wheeling History Home | OCPL Home

The materials on this website may be freely used by non-commercial entities for educational and/or research purposes as long as credit is given to the Ohio County Public Library, Wheeling WV. Content within these pages cannot be reproduced in any format for profit or other presentation without the permission of The Ohio County Public Library. To obtain permission to publish images or other material available on this website, contact us through our Ask a Librarian form.