Wheeling Hall of Fame: Mifflin M. Marsh
1818-1901
Business and Industry
---
Inducted 1990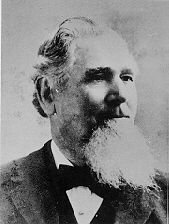 Stogie-making was once so prominent on the Wheeling business scene that the city's baseball team in the Middle-Atlantic League in the late '20s was known as the "Wheeling Stogies."
The word "stogie" itself is defined by Webster's Dictionary as "a long, thin, inexpensive cigar."
The long-popular smoke drew its name from the Conestoga Wagons which followed the National Rd. (now Route 40) through Wheeling back in the days when Mifflin M. Marsh was plying his trade.
Marsh, the stogie maker, was the founder of what is now Wheeling's oldest active manufacturing enterprise.
Marsh, who died on Jan. 13, 1901, at his Wheeling Island home, started out as a one-man business operation and developed his organization into a long-thriving firm that has managed to survive for 150 years.
Still in business is M. Marsh & Son at its five-story brick factory building between North Main and North Market Sts., just south of the Fort Henry Bridge. However, the payroll has dropped from its peak of 600 employees in the 1940s to the neighborhood of 50.
A native of Smithfield, Ohio, Marsh was born on May 28, 1818, as one of nine children in the family of William and Ann Naylor Marsh. He hand-rolled his first stogies and peddled them in a market basket carried over his arm.
Among his early customers were the crews and passengers of steamboats which traveled the Ohio River and docked at the Wheeling Wharf and also the drivers of those Conestoga Wagons, who distributed them to friends and neighbors.
Marsh's first factory was located on Water St., between 12th and 14th Sts., but he later moved to a location on Twelfth St. between Main and Water.
After the Civil War, the popularity of the stogie boomed and there were nearly 100 factories in business in Wheeling alone. Soon Wheeling-made brands were being enjoyed from coast to coast and overseas.
However, of those many companies, only M. Marsh & Son is still on the scene today and its products remain a tradition for many smokers.
Marsh moved part of his business to its present location in 1908 to meet the demands of a popular, growing organization.
By 1920, all of the operations were centered at the present plant.
Marsh became one of his adopted city's esteemed citizens and one of his sons, William, not only became prominent in the company but was also a member of Wheeling City Council for two terms.
An era ended in 1988 when M. Marsh & Son was the object of a friendly takeover by a Cincinnati firm.
But the traditional business of stogie-making proceeds at the long-time Wheeling location and the familiar Marsh Wheeling Stogie boxes are still being shipped around the world.
---
Text and pictures provided by Wheeling Hall of Fame. Service provided by the staff of the Ohio County Public Library in partnership with the Wheeling Hall of Fame Committee.
Hall of Fame Index | People of Wheeling Home | Wheeling History Home | OCPL Home