Wheeling Hall of Fame: B. Walker Peterson
1851-1925
Philanthropy
---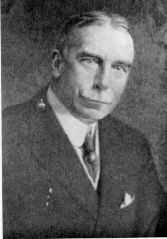 Inducted 1994
B. Walker Peterson was a Wheeling businessman and community leader who made significant contributions to the industrial, financial and social development of his native city.
Born in Wheeling in 1851 and a resident of the city for 74 years, Peterson was held in such high regard that on the day of his burial, trolley cars stopped, foundry whistles sounded, flags dropped to half-staff, department stores closed their doors and banks ceased all activity.
Peterson, graduated from Bethany College in 1870 and from Rennselaer Polytechnic Institute in Troy, N. Y., in 1873, used his education and intuitive business sense to amass his fortune. As president of the Wheeling Dollar Bank, he never turned his back on any company or corporation formed in Wheeling, capitalized in Wheeling, or intending to build in Wheeling.
He was what today would be known as a visionary mover and shaker.
Peterson was one of the first directors of Ohio Valley General Hospital and served as president of that institution, which he also endowed with his financial support.
At the time of his death, an editorial in the Wheeling Intelligencer said, "Mr. Peterson was first of all a builder. Without his sound financial talent, his unquenchable optimism and liberal enthusiasm, the progress of this district would certainly have not been so rapid. Ohio Valley General Hospital is a monument to his far-seeing and open-handed philanthropy."
He was also praised for his contribution to the acquisition of Wheeling Park for the city, his devotion to St. Matthew's Episcopal Church (where he was a vestryman and sang in the choir), and his interest in the public library.
He donated the land on which Peterson Rehabilitation Hospital and Geriatric Center was built and that facility was named in his honor.
Peterson was graduated from Rennselaer as a civil engineer and served as city engineer for Wheeling from 1876 through 1882. Through his engineering work, he became interested in a number of local industries.
Along with his brother, William F. Peterson, he became a partner in the firm of Caldwell & Peterson, one of the pioneers in the manufacture of metal roofing, ceiling and galvanized iron specialties in 1882. Following the death of William Peterson, Walker Peterson left Caldwell & Peterson in 1898 and became cashier at the Dollar Savings & Trust Co., then one of the smaller banks in the city. With the help of his efforts, that bank developed into one of the largest financial institutions in northern West Virginia.
Subsequently, Peterson became the owner of Warwood Tool Co. He was also one of the owners of the Wheeling Traction Co. and invested in other enterprises, including Wheeling Mould & Foundry, Ward Baking Co., and Wheeling Sanitary Manufacturing. Through his connection with Warwick China Co., he brought about the installation of a department of industrial training in the chinaware industry.
Of his philanthropy, the Wheeling Daily News noted, "Mr. Peterson's generosities were not limited to those things which especially commanded his attention. No man ever lived in this city whose purse was more open to appeals of charity and whose heart responded more freely in sympathetic service to those who were in need."
---
Text and pictures provided by Wheeling Hall of Fame. Service provided by the staff of the Ohio County Public Library in partnership with the Wheeling Hall of Fame Committee.
Hall of Fame Index | People of Wheeling Home | Wheeling History Home | OCPL Home