Wheeling Hall of Fame: Bob Roe
1908-1984
Sports and Athletics
---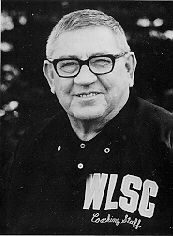 Inducted 1984
The name of Bob Roe has been synonymous with football in the Ohio Valley.
His career as a football coach spanned 44 years, with 43 as a head coach. Roe-coached teams won 232 games against 146 losses and 18 ties.
Born July 5, 1908, he was a sawed-off, 175-pound fullback at Warwood High in the mid-1920s and went on to become a four-year varsity performer at Bethany College.
In 1930, he launched his coaching career as an assistant at Warwood, where he still resides with his wife of 48 years, Esther.
The next year he became head coach and piloted the Vikings until '41 when he shifted to Wheeling High. Roe climaxed his stay at Warwood with three outstanding seasons — 8-1-0 in 1938, 6-1-2 in '39, and 8-1-1 in '40. His '38 and '39 teams were Warwood's first to defeat Wheeling.
Rose spent 24 seasons with the Old Gold and Blue. His most memorable year at Wheeling was his last one (1964) when the Wildcats swept nine straight before being denied a perfect season by a loss at Bellaire.
At a time when some might have been looking to retirement, Roe embarked on a new venture as head coach at West Liberty State College in 1965.
In 1970, Roe's Hilltoppers, undefeated but once tied, won the West Virginia Conference title. They bowed to Wofford College in an NAIA playoff game at Greenville, S. C.
Roe produced many outstanding players who went on to collegiate careers and at least four — Nick Mumley, Paul Rickards, Tommy Bland, and Lou Piccone — who played professionally.
His colorful career was marked by some prized upset triumphs. Especially coveted was that of 1960, when the Wildcats pilled state-championship-bound Weirton, 18-14.
Roe also piloted West Virginia to victory over Ohio, 13-7, at Wheeling Stadium in 1940 in the first Ohio-West Virginia All-Star Game. In 1946, he became director of that August classic and served in that capacity up through the early 1960s.
The Warwood resident coached track at Wheeling from 1942 through '63. His 1946 track team captured the state championship.
Roe could claim the distinction of being the winning coach in college football's first overtime game. That was in 1972, when the NAIA adopted a tie-breaker rule. West Liberty defeated previously unbeatened West Virginia State, 17-14, on a field goal by Jeff Epley.
A basketball official for 20 years, Bob Roe was president of the basketball officials' organization on three occasions.
Roe is a member of the West Virginia Sports Hall of Fame, Upper Ohio Valley Dapper Dan Hall of Fame, the Bethany College Athletic Hall of Fame, and the West Liberty Athletic Hall of Fame. He was WVIAC "coach of the year" twice; NAIA District 28 "coach of the year" in 1970; received the Belmont Hills Coaches' Banquet Achievement Award, and was recognized for his contributions to track with the Calvin Giffin Award.
(Bob Roe died in 1984.)
---
➤ Read about Bob Roe's induction into the OVAC Hall of Fame on West Liberty University's website.

---
Text and pictures provided by Wheeling Hall of Fame. Service provided by the staff of the Ohio County Public Library in partnership with the Wheeling Hall of Fame Committee.
Hall of Fame Index | People of Wheeling Home | Wheeling History Home | OCPL Home