Wheeling Hall of Fame: Dr. Arthur Rybeck
1923-2008
Philanthropy
---
Inducted 2015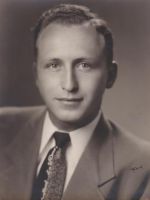 Dr. S. Arthur "Art" Rybeck Jr. was born August 2, 1923, on Wheeling Island, the son of Samuel and Rosalind Rybeck. During his youth, Art and his family moved to a farm on Cherry Hill Road, where he developed his love for the outdoors, and spent his summers camping on Colonel Oglebay's Waddington Farm, which would eventually become Oglebay Park. When Oglebay Institute was established, Art and his younger brother Walter enrolled as the Institute's first youth members and became devoted students of Oglebay's first naturalist, A.B. Brooks.

Following his graduation from Triadelphia High School in 1941, Art attended West Virginia University until 1943 and then served in the Army Signal Corps during World War II. During his military service, Art studied electronics at Philadelphia's Drexel Institute followed by service in France, the Philippines, and finally the military occupation of Japan.

After his military service, in 1945 Corporal Rybeck returned to the United States and entered the University of Pennsylvania School of Dental Medicine on the GI Bill. After earning his Doctor of Dental Surgery (DDS) degree in 1950, Dr. Rybeck opened his first dental practice in the Laconia Building in downtown Wheeling and in 1981 entered into a practice with Dr. Donald Lough and co-founded Gentle Dental Care on Washington Avenue.

Throughout his career, Dr. Rybeck passionately studied, improved, and shared new approaches to community health and nutrition, especially as related to good dental health. In the early 1970s he co-invented dental equipment that he patented and distributed to dentists internationally. In the early 1980s, he was invited to China where he introduced flossing and preventative care at Chinese dental schools.

Given his philanthropic nature to give back to the community for which he cared so much, Dr. Rybeck founded the Viewpoint Dental Clinic at the lodge on his New Dawn Farm in Triadelphia. From its start in 1998 until his passing in 2008, on most Saturdays Dr. Rybeck, with the help of volunteer dental assistants, provided free dental services to anyone in need who arrived at the clinic.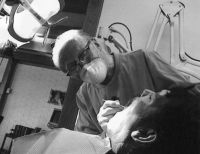 The Viewpoint Dental Clinic was a complete dental facility with an open floor plan, looking out over the rolling hills of the Ohio Valley through a wall of glass. As horses brushed up against the clinic windows, Dr. Rybeck treated two patients at a time, pivoting between dental chairs that faced one another. If one patient needed to learn about flossing or some other good dental hygiene practice, Dr. Rybeck would invite other patients and anyone waiting to gather around for the lesson. That unconventional clinic scene became the subject of an award-winning 2002 documentary titled "Dental Farmer."

Together with his wife of 57 years, Sivia Brody Rybeck, they raised five children in their home on Birch Avenue; Charles, Dan, Blanche, Abe, and Ted. Art was a lifetime congregant of Temple Shalom, an active supporter for all Oglebay Institute programs, the founder of a non-profit to reform West Virginia's tax structure to make it more equitable, a 33rd degree Scottish Rite Mason, and a member of the Chamber of Commerce and its Leadership Wheeling program, the WV Silver-haired Legislature, the Ohio Valley Peace Group, the Brooks Bird Club, and numerous health care and professional dental associations.

Active to the end, Dr. Rybeck was treating patients at the Viewpoint Dental Clinic until the day before he passed away on January 18, 2008.
---
Text and pictures provided by Wheeling Hall of Fame. Service provided by the staff of the Ohio County Public Library in partnership with the Wheeling Hall of Fame Committee.
Hall of Fame Index | People of Wheeling Home | Wheeling History Home | OCPL Home