First Incandescent Light in Wheeling, 1887
-from The Wheeling Daily Intelligencer, March 8, 1887, pg. 4.

THE INCANDESCENT LIGHT
---
The Wheeling Electrical Company Starts 200 Lights Going
---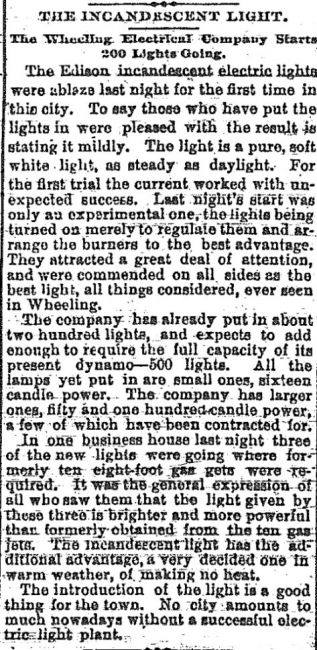 The Edison incandescent electric lights were ablaze last night for the first time in this city. To say those who have put the lights in were pleased with the result is stating it mildly. The light is a pure, soft white light, as steady as daylight. For the first trial the current worked with unexpected success. Last night's start was only an experimental one, the lights being turned on merely to regulate them and arrange the burners to the best advantage. They attracted a great deal of attention, and were commended on all sides as the best light, all things considered, ever seen in Wheeling.
The company has already put in about two hundred lights, and expects to add enough to require the full capacity of its present dynamo -- 500 lights. All the lamps yet put in are small ones, sixteen candle power. The company has larger ones, fifty and one hundred candle power, a few of which have been contracted for.
In one business house last night three of the new lights were going where formerly ten eight-foot gas gets were required. It was the general expression of all who saw them that the light given by these three is brighter and more powerful than formerly obtained from ten gas jets. The incandescent light has the additional advantage, a very decided one in warm weather, of making no heat.
The introduction of the light is a good thing for the town. No city amounts to much nowadays without a successful electric light plant.
---
Electricity | Wheeling Businesses | Places of Wheeling Home | Wheeling History Home | OCPL Home