Biography: Noah Linsly
---
- the following biographical sketch is from Prominent Men of West Virginia: Biographical Sketches, the Growth and Advancement of the State, a Compendium of Returns of Every Election, a Record of Every State Officer; Atkinson, George Wesley and Gibbens, Alvaro Franklin; W. L. Callin, 1890

NOAH LINSLY.
---
IN Mount Wood Cemetery, Wheeling, West Virginia, stands a plain marble shaft, bearing the inscription:
NOAH LINSLY,
A NATIVE OF CONNECTICUT.
The Founder of the Lancasterian Academy.
The friend of Youth and the benefactor of Mankind.
There are so few materials from which to obtain information, that even slight sketch of Mr. Linsly seems almost impossible, and yet it is right and proper that some effort be made to preserve the name and memory of man who, coming a stranger into the State, displayed such generosity towards our people.
­­­Noah Linsly was born in Branford, Connecticut, February 9, 1772* [This date is debatable, many other credible sources mark Linsly birth date as either January 26, 1772 or 1774]. His family was of English descent, his earliest ancestor in this country, John Linsly, having emigrated from the vicinity of London, and settled in New Haven in Connecticut. He was the third son of Josiah Linsly, but we have no additional knowledge of his family, other than that Dr. Tared Linsly, of New York, is his nephew. Noah Linsly graduated at Yale College in 1791, was tutor in that institution in 1794-5, and afterwards studied law at the Litchfield Law School, under Tapping Reeve. After completing his studies, he removed to Virginia and settled at Morgantown in 1797 or '98, where he remained two years, and then removed to Wheeling, where he passed the remainder of his life.
He is described as man of fine presence, six feet in height, with florid complexion and auburn hair, which he wore in queue; he was extremely particular in his dress and very dignified in manner. In politics, he was an old Federalist in religion, of Presbyterian lineage, though we have no means of knowing his private feelings and opinions upon the subject. He never married, and his personal friends are all gone, but his deeds speak for him more eloquently than could tongue or pen. He died at his residence in Wheeling, of hemorrhage of the lungs, after very brief illness, March 25, 1814.
In Wheeling he established school of learning, which was at first styled "the Lancasterian Academy." This was nothing more nor less than our present system of common schools. At that time it was new and novel in the South, and was by no means popular with the people. It, however, gave an impulse to education in Wheeling that can be seen and felt even to the present day. He left two large farms, in Ohio county, to Samuel Sprigg and Noah Zane, as trustees, for the purpose of endowing the school that he had already established. This was the first money ever given for free instruction upon slave territory, and preceded the public school system many years. The farms were sold by the trustees, and a lot purchased in Wheeling, building erected, and the Academy was regularly opened. The first school property occupied all the ground from Market to Chapline street, along the line to Alley 11. The building was of brick, 33x66 feet, and two stories high. After long years of use, it became dilapidated and unsightly, and was torn down, and the lots sold for residences. A new lot, on the corner of Eoff and Fifteenth streets, was purchased and large three-story brick edifice erected. The State established free system of education, and the old Academy was changed to the "Linsly Institute," and for many years it has been used to prepare boys for college. It has large endowment fund, and is consequently one of the established educational institutions of the State.
It is, therefore, no vain boast that Noah Linsly was truly benefactor of mankind. Could prophetic vision have been granted him, he might justly have said, and we now say for him, Si monumentum quaries circumspice (If you seek his monument, look around you).
---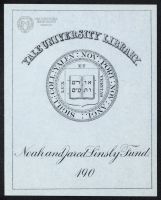 OTHER ENDOWMENTS
When Linsly passed away in 1814, in addition to leaving the two farms for the endowment of Linsly School, he also left in his will a bequest of $3000 to Yale college for the general purposes of the institution. His nephew, Dr. Jared Linsly, also a Yale alum, added $5000 to the endowment in 1867.1 The resulting endowment was designated the "Noah and Jared Linsly Fund." The income of the fund was used to purchase books for the Department of Modern Languages in the college library.2
1 Yale Endowments: A Description of the Various Gifts and Bequests Establishing Permanent University Funds; Yale university, 1917
2 Transactions of the New York State Medical Association for the Year 1887. Edited by Alfred Ludlow Carroll, M.D; Republican Press Association, 1888.
---
LINKS
▶ Wheeling Hall of Fame Profile: Noah Linsly
▶ OCPL History website - Schools of Wheeling: Linsly Institute Page
▶ Linsly School today: https://www.linsly.org/
▶ Linsly School's Noah Linsly biography page


---
Biographies Index | People of Wheeling Home | Wheeling History Home | OCPL Home
-Information on this page compiled by erothenbuehler