Biography: William Burrus
---
"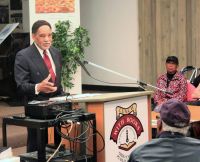 I was born in Wheeling on 12th street and, other than the years 1943 and 1944, was a resident of the community. That period was prior to the removal of the Jim Crow legislation that separated citizens by race including schools, movie theaters, the skating rink and medical services. I was a student in the last graduating class 1954, that was required by state law to be educated in separate facilities."
-Bill Burrus

William Burrus was born in Wheeling and completed his schooling at Lincoln High School, graduating in the last class segregated by race in 1954. His father, William Burrus Sr., owned and operated a Beauty Shop and News Stand on Chapline St. from 1949 to 1955.
After serving in the military for 3 years William Burrus achieved employment with the United States Postal Service and, in 1980, was elected to the 2nd ranking position Executive Vice President, serving for 21 years when he was elected as International President. He is the only African American elected by the membership of an international union as President and served for 9 years when he retired after a 53 year career.

From the humble beginnings in Wheeling William Burrus succeeded in being elected to the presidency of the 10th largest union in the country with members in every city in America. As union president he was elected as Vice President AFL CIO and Vice President UNI, the world affiliation of unions.
Burrus is the author of two books, an autobiography, My Journey: A Postal & Unique American Experience and Black History We Remember.
---

Burris and fellow former Lincoln High School students at the Ohio County Public Library's "Lunch With Books," Tuesday, February 10, 2015.

---
Biographies Index | People of Wheeling | African American Wheeling | Wheeling History Home | OCPL Home