Biography: Dr. Thomas M. Haskins
---
▶ Birth: August 19, 1859, Wetzel County, Virginia
▶ Death: November 8, 1938, Tulsa, Tulsa County, Oklahoma, Rose Hill Memorial Park Cemetery, Tulsa
▶ Spouse: Louise M. (Schenk) Haskins
▶ Marriage: September 10, 1894, Wheeling, West Virginia, St. James German Lutheran Church (view marriage certificate)

---
- From "History of Wheeling and Ohio County, West Virginia and Representative Citizens," Cranmer, Hon. Gibson Lamb, 1902, pg 421-422.

Dr. Thomas M. (Miller) Haskins
---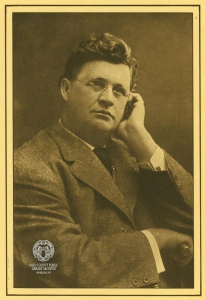 Dr. Thomas M. HASKINS, a distinguished physician and surgeon of Wheeling, West Virginia, whose portrait is here shown, is proprietor of what is known as Haskins' Hospital at No. 3327 Eoff street. He located at Benwood twelve years ago, and some four years later purchased the site of his present buildings and his beautiful home at No. 3333 Eoff street. Three years later he erected the main building of his hospital, and in the spring of 1900 built an annex. The former has four floors and a basement, is 100 feet deep and 50 feet wide, and is equipped with all modern appliances and conveniences. The annex consists of five floors, with two rooms on each floor, all the rooms and wards in the hospital having stationary wash stands. The patients of the hospital also have the privilege of free Turkish baths, with expert rubbers in attendance, - a luxury not provided in other hospitals. The buildings were erected and equipped at an expense of $50,000, and are maintained at a cost of $20,000 per year. The average number of patients is 40, but frequently the number is larger. Professional nurses are in attendance and the Doctor has instituted a training school for nurses, the students also having practical work. There are three assistant physicians, - Dr. Joseph Palmer, a graduate of the Jefferson Medical College of Philadelphia, Pennsylvania; Dr. J. Alexander; and Dr. John O'Brien, a graduate of the University of Virginia. Dr. John W. Meyers administers anesthetics. These assistants complete a corps for operating and are constantly within call. On the first floor of the main building is located one of the finest pharmacies in the state, owned and conducted by Mr. Menkemeller. A free ambulance is provided, and all cases for medical and surgical attention are received.
Dr. Haskins has practiced medicine for the past fifteen years, and has a thorough mastery of his profession. He graduated in the spring of 1886 from the College of Physicians and Surgeons, at Baltimore, Maryland, and two years later from Bellevue Hospital and Medical College of New York City. In 1894 he took a course at the Post-Graduate School of New York. He has also taken a special course in surgery at different schools. He makes somewhat of a specialty of diseases of the nose and throat, and has established a large practice in this department.
Dr. Haskins was born about 57 miles from Wheeling, in Wetzel county, West Virginia, and was educated in the schools of this state. His father, W. H. Haskins, was from Eastern Virginia and for some years was in the hotel business, but spent the later portion of his life on his farm. The great-grandparents of Dr. Haskins came from Ireland. His mother and father are deceased. The Doctor has two brothers, - John C., foreman in the steel works at Benwood; and A. P., who resides on the old homestead, which is the Doctor's property.
Dr. Haskins decided on the medical profession at an early age, but taught school several years in his youth. At the age of twenty-two years he was elected superintendent of schools of Wetzel county, served as such two terms, and then taught a private normal school for two years at Burton, West Virginia. He was county superintendent of schools at the time he first graduated from medical college. He practiced two years in his native town, and then ten months at Davis City, after which he located at Benwood. He is not a member of any of the medical societies, although he has no feeling of animosity toward any of them. He has never reported a case during his practice, although his extensive experience eminently qualifies him to prepare articles which would greatly benefit the profession in many ways. Politically, he is a Democrat, and is a member of the second branch of the city council. His office hours, which are necessarily long, do not permit much of his time to be spent other than in his profession. Socially, he is a member of the Knights of Pythias, Shields of Honor, Ancient Order of United Workmen and Star of Bethlehem. He also carries nearly $50,000 life insurance in old-line companies. He was united in marriage with Louisa M. Schenk, a daughter of F. Schenk, a prominent business man of Wheeling. They have three daughters, - Rhea, Mary and Edna. Mrs. Haskins was reared a Lutheran, but favors the Presbyterian church.

---
Biographies Index | People of Wheeling Home | Wheeling History Home | OCPL Home
-Information on this page compiled by erothenbuehler