George R. E. Gilchrist
Lawyer
-- from History of West Virginia, Chicago: American Historical Society, 1923 (v.2, p. 410)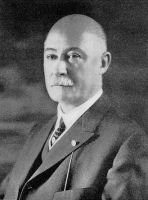 GEORGE R. E. GILCHRIST was born January 8, 1857. His father was a civil engineer and his mother was a daughter of a civil engineer who after the close of the Civil war was engaged by the Government as chief engineer under General Weitzel, in charge of the construction of the Louisville Canal. Both the father and mother died years ago at their son's home.
George R. E. Gilchrist had a sister, Adelaide, who was an artist, and he had a brother Harry. The sister died unmarried, and the brother, likewise, the latter while attending school at the University of Virginia. Both died before their father and mother.
George R. E. Gilchrist received his academic education at the University of Wooster and his education in law at the University of Virginia. He was admitted to practice in West Virginia, at Wheeling, in 1881, and has always lived there. In more than forty years of work he has specialized in corporation, estate and labor union litigation in State and Federal Courts; while in his offices, rooms 600 to 608, making up the sixth floor of the National Bank of West Virginia Building, he has one of the largest individual law libraries to be found in the United States.
George R. E. Gilchrist married in 1883, and of that union three children were born. Ethel, the eldest, unmarried, lives with her parents in Wheeling. Mabel, the second child, is married, and with her husband and the two children born to that union lives at Phoenix, Arizona. Virginia, the third child, died unmarried in 1914, while attending a girl's school near Roanoke.
---