Biography: Clyde Thomas
---
Ironman and Councilman
April 5, 1940—October 12, 2006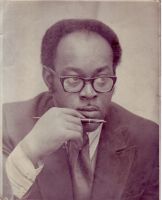 Clyde Thomas was an all-state athlete in basketball and football at Bellaire High School. He started at running back for Ohio in the 1958 OVAC All-Star Football Game, alongside quarterback John Havlicek, the future Boston Celtics legend.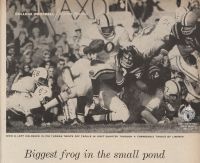 Clyde played college football for Ohio University, and starred on the undefeated Mid-American Conference Championship team as a senior in 1960. An All-American, Clyde was mentioned in Sports Illustrated.
He married Ann Prince in 1960.
He went on to a successful career as a hard running halfback for the Wheeling Ironmen, the local semi-professional football team. Clyde later played for a little over a year with the Philadelphia Eagles of the NFL before a broken foot ended his NFL career. He returned to Wheeling, continued playing for the Ironmen and finished his college degree at West Liberty. When he retired from the Ironmen he was the franchise's all-time rushing leader. In 1964, he led the United Football League with an impressive 6.6 yards per rush. He was inducted into the American Football Association's Minor Football Hall of Fame in 2000.



After retiring from football, Clyde ran for City Council, won by a landslide, and served four terms. Also serving as vice-mayor, he helped get the Wheeling Civic Center built, and led the proposal for a downtown Wheeling shopping mall.
He was the first and, to date, the only African American elected to Wheeling's City Council in the modern era (see bio of B.F. Stillyard).
Clyde Thomas died in 2006.
(Text from "Legendary Locals of Wheeling," by Seán Duffy, Ann Thomas; Photos provided by Ann Thomas; Sports Illustrated article from the collections of the Ohio County Public Library Archives.)
---
Biographies Index | People of Wheeling Home | African American Wheeling | Wheeling History Home | OCPL Home
-Information on this page compiled by sduffy