North Wheeling Glass
- from The Wheeling Daily Intelligencer, Sept. 14, 1886
NORTH WHEELING GLASS WORKS.
---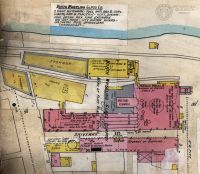 One of the City's Prosperous and Important Factories
The North Wheeling Glass Company, (William Alexander, President; F. J. Parke, Secretary) has a complete prescription glass factory on the river front between Second and Third streets. The buildings are new, having been rebuilt a few years ago after the works were destroyed by fire. They are of brick and stone, substantially constructed, and in convenience of arrangement and handsome architectural design are not surpassed in the valley. The company is unusually busy just now, being somewhat pushed to keep up with their orders on account of having a six-weeks' suspension lately. They are doing nearly all their work on contracts by special designs -- what is known as "private mold ware," bottles for proprietary preparations made after designs furnished by the firms for which the goods are made. The factory is now as prosperous and in as good trim as any Wheeling manufacturing concern. It prefers to select its business rather than extend its facilities, and so has the most desirable class of trade in its line to be obtained.
---
Glass & Pottery | Wheeling Businesses | Places of Wheeling Home | Wheeling History Home | OCPL Home