Wheeling Hall of Fame: John Joseph
1887-1931
Music and Fine Arts
---
Inducted 2019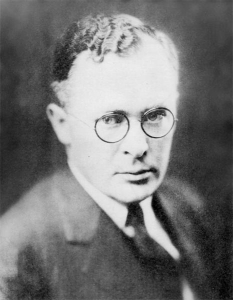 John Joseph Owens was born in Wheeling on May 15, 1887, the son of Thomas and Anna Owens, both natives of Ireland. He attended parochial grade school and graduated from Cathedral High School, now known as Central Catholic High School. He lived his early years at 92-14th Street, across from the Scottish Rite Cathedral. After high school, he went on to the Maryland Institute College of Art in Baltimore for further training, completing a four-year course in painting and drawing.
Owens then returned to Wheeling and for a time was staff artist for what was then known as the Wheeling Register newspaper. He also opened his artist's studio and grew his reputation for portrait painting both in Wheeling and in Baltimore.
At the outbreak of World War I, he joined the U.S. Army and served as a member of the medical service corps, performing the role of surgical illustrator. Overseas, he was stationed at the base hospital in Paris. His work of making anatomical drawings earned him the rank of Sergeant, First Class. Owens served his country with honor, and after Armistice Day, he remained in Paris for six months to study at the Academie de la Grande Chaumier under renowned artists and sculptors.
After he returned from Europe, he opened his professional studio in the Hawley Building and joined his two unmarried sisters, Rose and Margaret, at 106 Jefferson Avenue, where they made their home.
In 1926, he returned to Europe for more study. During this time, he accepted many art commissions, working in Spain, Italy, and France. He was written up in foreign publications and earned an international reputation.
On his return to Wheeling, Owens was active in the community in many ways including social clubs such as Rotary, the Blue Pencil Club, Wheeling's Little Theatre and more. He also was an active member of St. Michael Parish.
He held art exhibitions at his studio and taught art to the public. He was founder of the Art Club of Wheeling in 1928 and served as treasurer. He taught and worked with Oglebay, specifically with the Art Colonies for Young People. He was a close friend of Wheeling Hall of Fame photographer George J. Kossuth.
Owens brought fame to the city of Wheeling by painting portraits of many influential leaders, both nationally and abroad. In addition to local clientele, he painted portraits for individuals and institutions in Baltimore; Washington, D.C.; Charleston; and Emittsburg, Maryland.
At the time of his sudden death from appendicitis at age 44, Owens was working on an oil painting of the dean of Harvard University, which was completed by his brother Vincent, who was an artist and cartoonist at the Wheeling newspaper.
Owens is well-known for his paintings of all the presidents of the prestigious Fort Henry Club of Wheeling, created during his lifetime, along with many other Wheeling residents and landscapes. A collection of his paintings is housed at the Ohio County Public Library. He is buried at Mt. Calvary Cemetery.
According to the 1984 Spring/Summer edition of the Upper Ohio Valley Historical Review, "John Owens was known for his portraits of Wheeling's most renowned dignitaries, yet he was himself one of Wheeling's most famous people; he died at the peak of his career. During his lifetime, he painted all the leading citizens of Wheeling and many ordinary people. With his artist's brush, John Owens created a 'Hall of Fame' of Wheeling in the era in which he lived."
---
Text and pictures provided by Wheeling Hall of Fame. Service provided by the staff of the Ohio County Public Library in partnership with the Wheeling Hall of Fame Committee.
Hall of Fame Index | People of Wheeling Home | Wheeling History Home | OCPL Home