Construction of the City Bank Building, 1891
---
- from the Wheeling Daily Intelligencer, Nov. 12, 1891

WHEELING'S TALLEST.
---
The Magnificent Front of the new City Bank Building Completed.
---
ITS CAP STONE PLACED YESTERDAY
---
Something about the Highest and Finest Granite Front in the State.
The Details of the Complete Structure, which is a Credit to the city and State.
---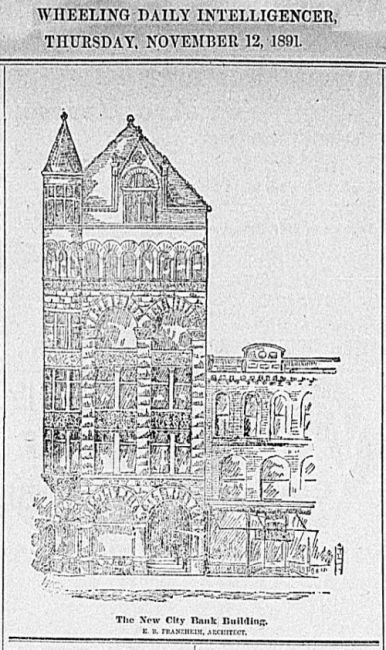 Yesterday the cap stone was adjusted which completes the handsome front of the tallest business building in the State of West Virginia. For months past Market street at the corner of Thirteenth has been the scene of constant activity, where crowds have congregated every day, busily engaged in watching the interesting work of elevating the immense pieces of granite used in the extremely handsome front of the new City Bank building. These varied from eleven tons down to a small block weighing but a few hundred pounds.
The extreme height from the pavement to the apex, which is in the form of a conventionalized fleur-de-lis, is 125 feet. The front, which is of gray granite from the quarries of Maine, profusely carved. The ground floor is handsomely ornamented by big pillars of polished Johnsbury granite, the whole being very massive and imposing in effect.
Messrs. Renhalter & Co., the contractors, have spared no pains to make this the finest front in the state, this being their first contract in Wheeling. There will be twenty-six rooms, exclusive of the banking room on the first floor. These will be reached by a rapid Otis hydraulic elevator, and will be devoted to general office purposes. All will be finished in Georgia pine, in natural finish, with stationary washstands, hot and cold water. The water will be drawn from an artesian well underneath the building. On every floor will be lavatories.
The banking room on the first floor will be finished in hard wood, with handsomely cared fixtures. The main entrance hall to this room and the upper stories, will be lined, with marble wainscotting.
Broad steps will lead up to the large swinging doors, ornamented with antique bronze and trimmings of the very latest style of art hardware.
The sides are built of pressed brick. The work was done under the supervision of Mr. Carl Hamilton. Every part of the building is constructed on the slow burning process, the joists all being very heavy and far apart, which makes the best of fire-proofs, in spite of all the devices so loudly praised in the East. The entire building will be heated by steam and lighted by electricity. Heavy plate glass will be used exclusively.
The roof, which will be highly ornamental, will be finished in Spanish tiling.
The entire cost will be about $80,000. Mr. Edward B. Franzheim, the architect who designed the building, is comparatively a young man and has every reason to be proud of his work, as the house places him in the rank of the leading architects of the country.
The building, by the way, will be first to use the Bostwick fire-proof steel laths made by the Wheeling company.
---
Banks & Credit Unions | Wheeling Businesses | Places of Wheeling Home | Wheeling History Home | OCPL Home