Biography: Edward Bates Franzheim
---
Architect
— SOURCE: Callahan, J. M. (1923). Vol. II. In History of West Virginia, old and new (p. 412). Chicago: American Historical Society.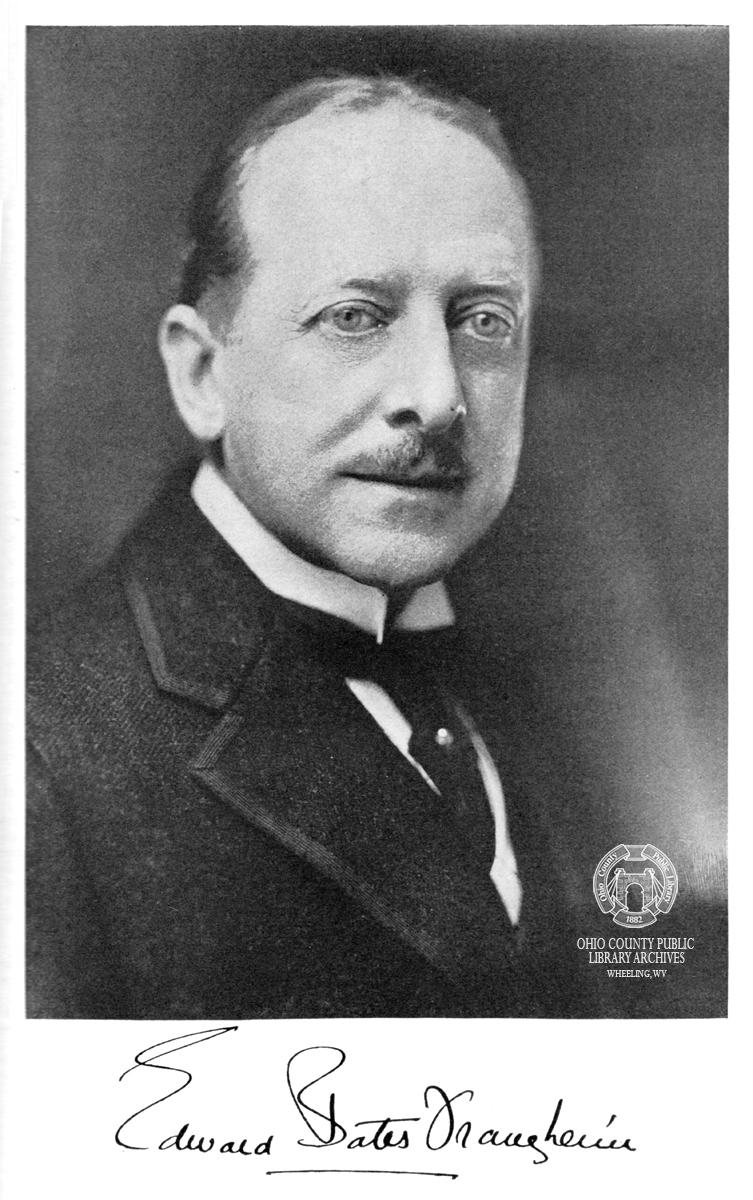 EDWARD BATES FRANZHEIM. The record made by Mr. Franzheim in the profession of architecture is exemplified at many points throughout the Ohio Valley besides his home City of Wheeling. Mr. Franzheim is one of the very popular citizens of Wheeling, a man of versatile gifts, of high public spirit, and only a great devotion to his profession has prevented him from securing recognition in other fields.
Mr. Franzheim was born at Wheeling July 20, 1866, son of George William and Mary Ann (Hornung) Franzheim. His mother was a native of Allentown, Pennsylvania. Her father came of a long line of musicians and writers in Germany, and was brought over from Heidelburg to take up professional work as an educator at Philadelphia. Mr. Franzheim's father, George William Franzheim, was one of the notable men of Wheeling during the last century. He was born in Germany, of a family that at different times had held important Government positions in the Department of Forestry. George W. Franzheim was six years of age when his family came to America, and after a period of schooling he took up grape culture and the manufacture of native wine, an industry which he developed to be one of the largest plants in the country at that time. The large stone arched cellars used in wine manufacture attracted many visitors. He held many important positions in the State of West Virginia, and was one of the commissioners to build the capitol at Wheeling and was also a regent of the State University.
Edward Bates Franzheim attended Linsly Institute at Wheeling, Chauncy Hall at Boston, and had private tutoring under Professor John M. Burch and professors from the Massachusetts Institute of Technology. He later studied under John M. Sturgis, a noted Boston architect, and remained with him for six years, until the death of Mr. Sturgis. This long course of training was supplemented by travel and study abroad in Europe.
After the death of Mr. Sturgis in 1892 Mr. Franzheim returned to Wheeling and opened an office as an architect. The City of Wheeling itself contains numerous examples of his work as an architect and designer, and he has designed and erected many notable buildings in other cities as well. Mr. Franzheim was architect for the Court Theater in Wheeling, erected in 1901, and he was then selected to manage the theater for five years. His management laid the foundation for the Court's great fame as a local playhouse. Prior to that time and also during the period Mr. Franzheim was director of the noted local "Players Club," which produced many notable plays, and in these productions Mr. Franzheim usually took leading roles. His work on the stage attracted more than local attention, and he was offered opportunities to take up work with the leading New York managers. While these offers were flattering and attractive, Mr. Franzheim felt that his true vocation was in architecture, and he has been satisfied with only an amateur's role on the stage. However, he has written several plays.
Mr. Franzheim has held the office of director at different times in a number of corporations and institutions. He has been an independent voter since the Palmer and Buckner gold campaign of 1896. In that year he took a leading part in behalf of the republican candidate, and was personally thanked by Major McKinley for the assistance given him. Mr. Franzheim is a member and has held the highest offices in Osiris Temple of the Mystic Shrine at Wheeling, is a Knight Templar in the Order of Masons and is a past exalted ruler of the Elks. He is a member of the Lambs Club of New York, the Southern Society of New York, the Fort Henry Club and Country Club at Wheeling, the West Virginia Society of Architects and the American Institute of Architects.
At Wheeling, November 1, 1905, he married May Whitty, daughter of John and Katherine McKernan Whitty.
[ newspaper article from the vertical files in the OCPL's Wheeling Room ]
---
Biographies Index | Wheeling History Home | OCPL Home
-Information on this page compiled by lhoracek