Lee S. Good
Department store founder
---
- from History of West Virginia, Old and New and West Virginia Biography -- Chicago: American Historical Society, 1923. v.2, p. 335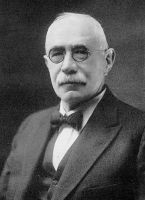 LEE S. GOOD. A business that has been growing from smaller to greater scope and has been rendering an increasing service as a dry goods store to Wheeling and a large surrounding territory for a period of nearly forty years is L. S. Good & Company, the founder of which, Mr. Lee S. Good, is still active in the business, though many of his responsibilities have been assumed by his sons.
Lee S. Good was reared and educated in Germany and came to the United States in 1873, locating at Wheeling. Besides a common school education he had acquired a thorough training in the dry goods business in Germany, and at Wheeling until 1884. In that year he employed his modest capital to open a business of his own, and under his direction the establishment has grown and prospered until it is one of the larger wholesale and retail dry goods houses of the Ohio Valley. He continued it under his immediate responsibility for a number of years, until his sons Sam and Sidney were old enough to become associated with him, in 1910, and since then the institution has been L. S. Good & Company. Mr. Lee Good owns the modern store building at 1132-36 Main Street, where he has three floors for the use of the general department store, carrying an extensive stock of dry goods and women's wearing apparel.
L. S. Good is also a director in the Half Dollar Savings Bank at Wheeling. He is member of the Le Shem Shomaim Temple, Wheeling Lodge No. 28, B. P. O. E., and the Chamber of Commerce.
He married Fannie Hanauer, who was born at Morristown, Ohio, January 10, 1869. They are the parents of three children. The oldest, Bertha, is the wife of Jay Iglauer, who is secretary and treasurer of the Halle Brothers Company at Cleveland, Ohio. The youngest is Sidney Good, who married Miss Jeanette Berg, of Philadelphia, Pennsylvania, and is partner in the business of his father.
Sam Good, the other son, was born at Wheeling September 10, 1894, was reared and educated in Wheeling, finishing his high school course there, and at the age of sixteen left school to go to work in his father's store. With broadening knowledge and experience he has become the active managing head of the business and has been a partner since 1916. He is a member of Le Shem Shomaim Temple, Wheeling Lodge No. 5, F. and A. M., and Wheeling Lodge No. 28, B. P. O. E. In December 1918, he was sent to Camp Hancock, Augusta, Georgia, received a commission as second lieutenant, and was mustered out in January 1919.
In September, 1919, at Canton, Ohio, Mr. Sam Good married Miss Lucille Lowenstein, daughter of Sam and Lina (Sonneborn) Lowenstein, residents of Canton, where her father is a retired merchant and manufacturer. Mrs. Good finished her education in a Young Ladies Seminary at Baltimore. Sam Good and wife have one child, Lee S., second, born August 2, 1920.
---