William Wilson Irwin
Wheeling Businessman, City Council Member, Ohio County Sheriff, Postmaster, and Imperial Potente of the Shriners of North America
---
➤ Birth: November 16, 1863, Danville, Kentucky
➤ Death: November 10, 1924, Pittsburg, PA (view obituary - Nov. 11 | cont Nov. 12)
➤ Interment: Buried at Greenwood Cemetery
➤ Spouse: Mary Ott (Daughter of Henry Ott and Martha Griffith Ott, a Wheeling suffragette)
Birth: June 4, 1865
Death: August 6, 1942, Wheeling (view death certificate | view obituary)
Interment: Buried at Greenwood Cemetery
➤ Marriage: October 17th, 1889 (view marriage license)
---
-From The Lubricator, Official Bulletin of the Wheeling, West Virginia Rotary Club, April 25, 1922

WHO'S WHO IN ROTARY
William Wilson Irwin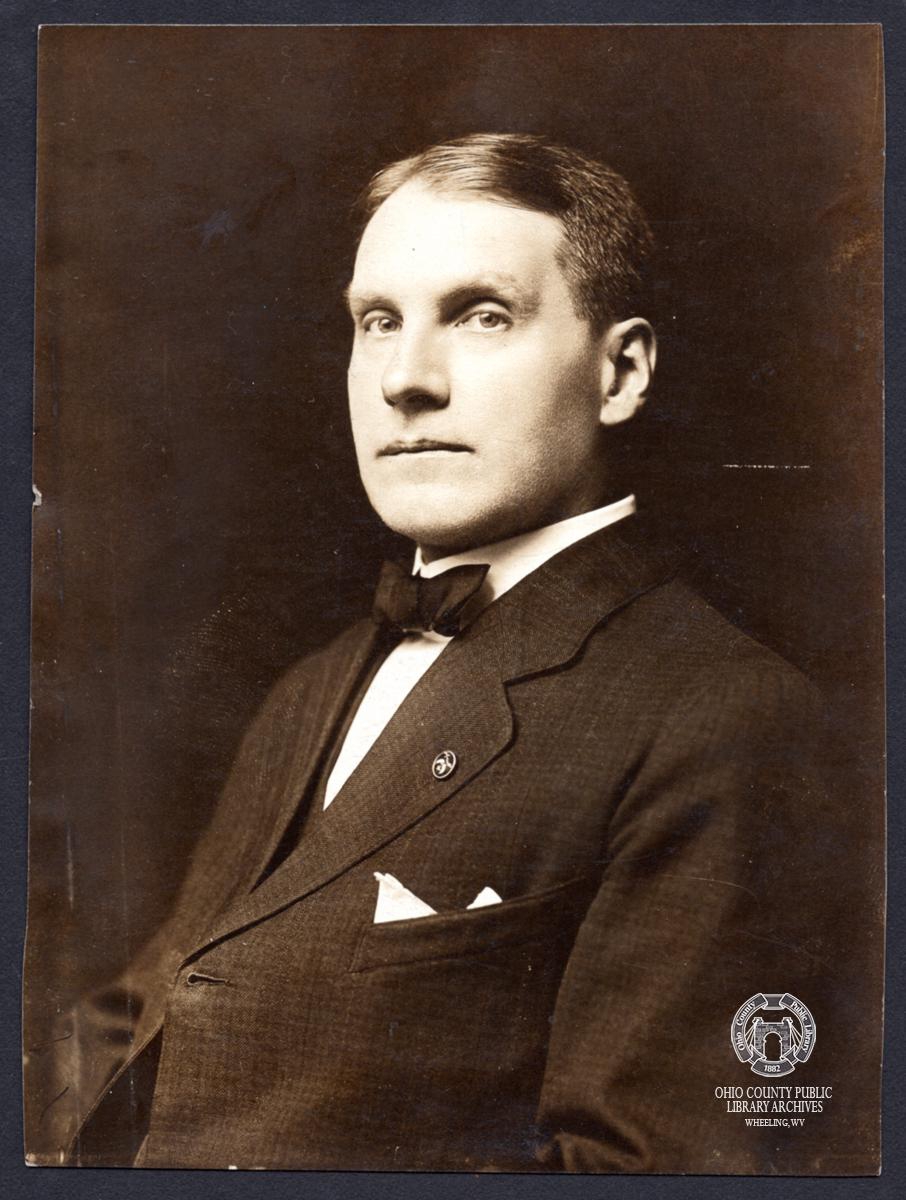 Down in Danville, Ky., this youth elected to make his appearance on November 1st, Attended schools there and entered Centre College, graduating the youngest member of his class, being under 20 years of age. This College later became somewhat famous on the Grid-iron, and the natives of Wheeling had their attention drawn to the fact that "Billie" Irwin had started the school on its athletic career. After this equipment, came to Wheeling (where his ancestors had settled earlier) and decided to take up the Drug business. Associated himself with the Alex Young Pharmacy on Sixteenth Street, and after being fitted there was put in charge of the Young Pharmacy at Twenty-fourth and Chapline streets. This he later acquired and operated under his own name until a few years ago when he retired from the Drug line.
While a Druggist and not having to work more than twenty hours per day he learned to devote a little time to the girls. One in particular, Miss Mary Ott he talked into changing her name and aided by the Preacher this was accomplished on October 17th, 1889.
P. M. Bill—that means today Post Master Bill and it has often meant Past Master Bill—is known all over this Continent. A member of fraternal organizations and has taken an active interest all his life in Masonic work in this district. Was made Imperial Potentate of the A.A.0.N.M.S., serving during the years 1913-1914. The record, we believe, shows that he performed some "stunts" in the Panama Canal—before the place became wet—that is before any water went through.
"Billie" is a Second Presbyterian, to-wit—a member of the Second Presbyterian Church here. He is likewise a Democrat—some say—violently so—but that simply means he is true to the faith. Has always taken an active interest in politics, serving as Councilman and as Sheriff and for the past seven years Post Master of this burg and some P. M. he is.
A good, solid chap physically, mentally, spiritually—he's ready always to devote of his time and talent to any worthy cause.
He lives at home with his wife, Mrs. Irwin and only daughter, Martha, and enjoys himself in their company when the opportunity is afforded to be free from numerous calls. The Lubricator doesn't know the year of your birth, consequently hasn't attempted to figure out how old you are, but will say this —whatever your age is—you surely don't look it—and we take this occasion to wish you at least another hundred years of active participation in the affairs of men. May long life, health and prosperity be yours in abundance.
---
-Selection from William W. Irwin's obituary, Wheeling Intelligencer, Nov. 11, 1924, pg. 10 continuation
(Also see Wheeling Intelligencer, Nov. 12, 1924)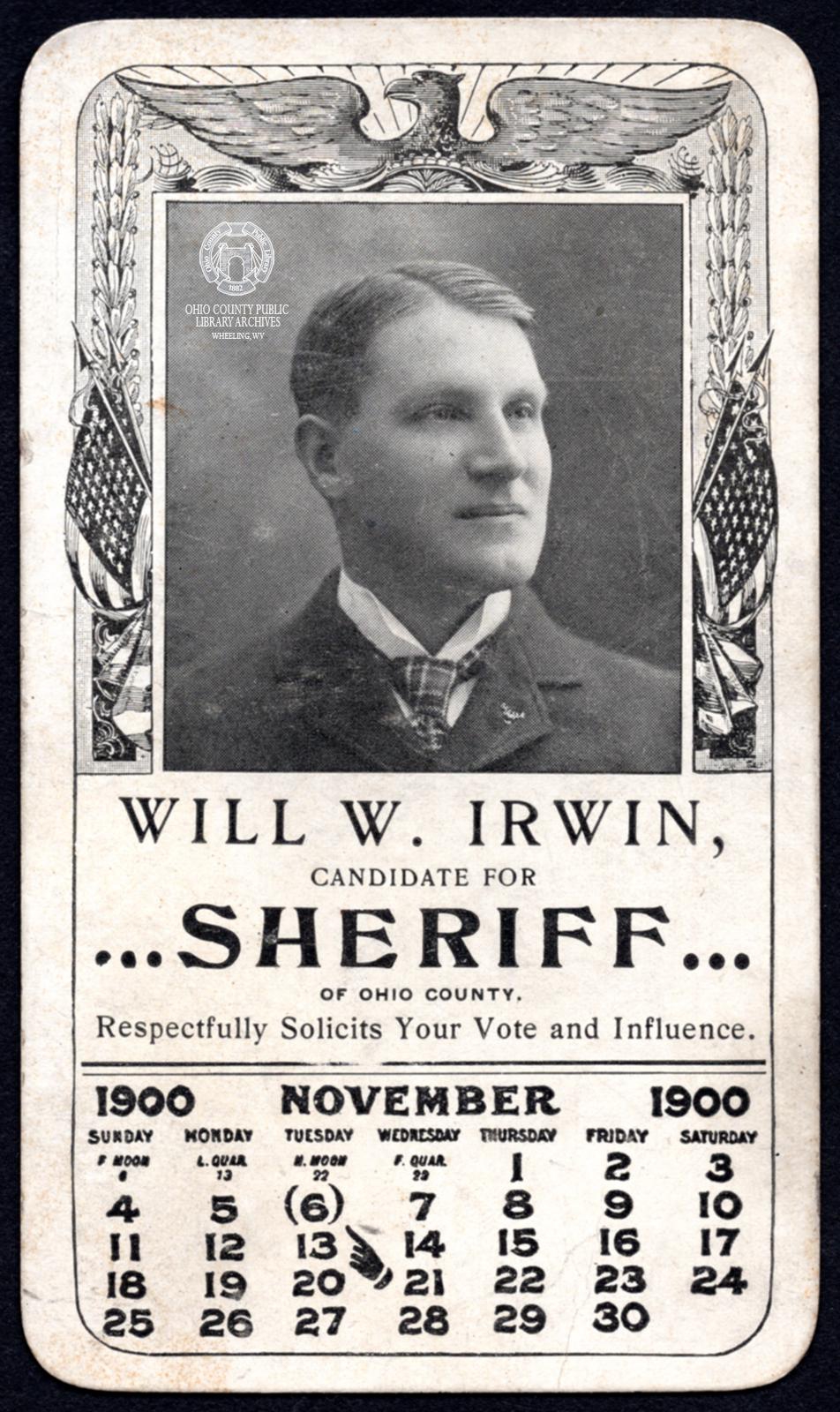 Mr. Irwin was especially well known for his participation in the life of the community and his services rendered in public elective and appointed offices. His long career of public service was started in 1891 with his election to the second branch of the city council.
Mr. Irwin, was elected to council as a Democrat, was ever a prominent and active member of that party. He became affiliated with the Democratic county organization shortly after he established himself in the city and up until the time of his recent illness he took part in all campaigns in the interest in his party.
After serving a second term in the city council, having been re-elected to that body solely on his merits and achievements, as a public official, he was elected to the first branch of the body. He served four years with the first branch, extending his councilman service over a period of eight years.
Recognizing his marked efficiency as a member of council, he was then placed on the board of county commissioners, where he served a full term...
Having displayed his ability as a holder of public office for 10 years, Mr. Irwin advanced a step higher when he was elected as sheriff of Ohio county, the duties of which office he assumed January 1, 1901. In his four years as sheriff, Mr. Irwin exhibited an unceasing zeal in the execution of his duties, for which he won the praise and admiration of his constituents.
In 1912, Mr. Irwin was appointed Wheeling postmaster by the late President Wilson, upon the recommendation of Congressman Mansfield M. Neely. After dispatching his duties as postmaster for four years with the utmost efficiency, he was called upon to serve a second term...
Mr. Irwin's career as a Mason probably received its full recognition in 1913 when became Imperial Potente of the Shriners of North America, serving in that office for two years, 1913-1914.
---
Additional Resources
Materials in the Library's Archives: non-circulating, please call 304-830-1814 or email to make an appointment to view materials.
➤ Archives Collection: Wheeling National Heritage Area Corporation Records, 1995-2018 - Box 17Ac (Irwin folder contains a portrait of Mr. Irwin [see above], a 1900 political advertising card for Sherriff [see above], a copy of The Lubricator, April 25, 1922 profiling Irwin [see .pdf file], and two Intelligencer newspaper clippings of "Who's Who in Rotary: William Wilson Irwin" with duplicate text to the Lubricator article.)
---
Biographies Index | People of Wheeling Home | Wheeling History Home | OCPL Home
-Information on this page compiled by erothenbuehler