Lunch With Books: Livestream Editions
---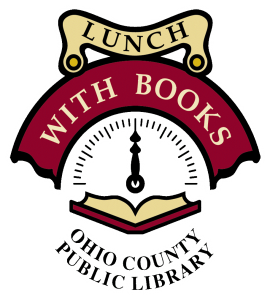 When all in-person Library programming was cancelled March 15, 2020 due to concerns over the potential spread of the coronavirus COVID-19, we were crushed. You missed us, and we missed you. So, OCPL started a new online initiative to bring "Lunch With Books" to you virtually every Tuesday. Even though we are back to in-person programming, we have decided to continue broadcasting online, unless a speaker requests we not record their program. So now you can still attend Lunch With Books even if you can't get to the Library! Please enjoy our "Lunch With Books: Livestream Editions."
Subscribe to the Lunch With Books Youtube channel or like us on the Lunch With Books Facebook page or to receive notifications of our upcoming LWB broadcasts. Ask our presenters questions online during a live broadcast and they will answer them at the end of a program. To receive emails about our upcoming programs, visit our News page, click the "Subscribe" button to sign-up for our news blasts or download our free OCPL Connect app from your smartphone's app store.
#LibrariesStrong
LUNCH WITH BOOKS: LIVESTREAM
Tuesday Sept. 19 | 2023 at noon
LWB LIVESTREAM: Architect George Bradley Cunningham with Dr. Chuck Julian
Tuesday Aug. 31 | 2023 at noon
LWB LIVESTREAM: Mike Florio, "Father of Mine"
---
Tuesday | April 26, 2022 at Noon
LWB LIVESTREAM: Born of Rebellion: West Virginia and the Civil War with Peter Chacalos

Peter Chacalos will discuss his new book, Born of Rebellion: West Virginia and the Civil War. The book offers a concise journey through the major Civil War military events in what is now West Virginia.

---
Tuesday | April 19, 2022 at Noon
LWB LIVESTREAM: Saving Money with Unified and the United Way

Don Feenerty and colleagues will tell us about creative and effective ways to save money. Ohio County Public Library's Lunch with Books presents Unified, the United Way and You Tuesday, April 19 at noon. April is National Financial Literacy Month. Join us as Unified Bank's Customer Experience & Sales Executive, Mallory Clegg, discusses the differences between financial wants and needs, how to build and maintain a budget, and best practices for living within your means. Jessica Rine, Executive Director of the United Way of the Upper Ohio Valley, understands that many people these days are forced to live paycheck to paycheck. Jessica will provide a cooking demonstration showing you how to make budget-friendly meals at home. ​
---
Tuesday | April 12, 2022 at Noon
LWB LIVESTREAM: A Night to Remember (Film Discussion)

On Mon., April 11 at 6 PM in the auditorium, we will offer a free screening of the 1958 film, "A Night to Remember," which recounts the sinking of the "unsinkable" RMS Titanic on her maiden voyage from England to New York City when she struck an iceberg in the North Atlantic and then sank in the early morning hours of Monday, April 15, 1912. Directed by Roy Ward Baker, the British film stars Kenneth More and portrays the tragedy in a documentary style. Blueprints of the original ship were used to create authentic sets. Unlike the better known 1997 film, "Titanic," "A Night to Remember" is highly regarded by historians and survivors for its authenticity. On Tuesday, April 12, 110 years to the week after the disaster, Dr. Art Barbeau, emeritus professor of history at West Liberty University, will lead a discussion of the film.
---
Tuesday | April 5, 2022 at Noon
LWB LIVESTREAM: The Lost History of Frederick Douglass in Wheeling

Internationally known, in life and afterlife, on both sides of the Atlantic Ocean as an orator, abolitionist, editor, suffragist and American reformist, the history and placement of Frederick Douglass in the field of Appalachian Studies has not been considered and recognized until now. Following the Civil War, Frederick Douglass made notable visits to Wheeling, West Virginia in 1867 and 1884, speaking first at the original Washington Hall at the bequest of a literary society and nearly two decades later at the Opera House, which still stands today at 12th and Market Street in downtown Wheeling, as part of an Emancipation celebration.
---
Tuesday | March 29, 2022 at Noon
LWB LIVESTREAM: G.B. Shaw and Oscar Wilde with Playwright Kris Hall

Kris Hall is the author of "The Fabian Waltz," a witty romance in which playwright George Bernard Shaw's life and work are upended by a challenging woman he cannot win. Shaw and his fellow Fabians, including Oscar Wilde, fight for social justice and discover love along the way. Kris Hall earned his playwriting Master's at Rutgers University, studying under Roger Cornish, an expert on British theatre.
---
Tuesday | March 22, 2022 at Noon
LWB LIVESTREAM: Celtic Music for Cello and Violin with Paula Tuttle and Charles May

Charles May has been exploring Folk music all his musical life. He is joined by Paula Tuttle for a concert of Celtic music for Violin and Cello.

---
Tuesday | March 8, 2022 at Noon
LWB LIVESTREAM: If These Walls Could Talk: Revisiting the McLure Hotel
Tuesday | March 15, 2022 at Noon
LWB LIVESTREAM: Irish Music with Faire May

For St. Patrick's Day and Irish American Heritage Month, Faire May (featuring Zac Gordon and Jariel Henthorn), a traditional music band specializing in enjoyable folk music from the near and distant past, will play some favorites from the Emerald Isle.
---
Tuesday | March 8, 2022 at Noon
LWB LIVESTREAM: If These Walls Could Talk: Revisiting the McLure Hotel
In keeping with the new ownership and rebirth of the McLure House, this talk and virtual tour, featuring Jeanne Finstein and others TBA, will highlight its history, along with biographies of some of the famous people who had some connection to it. Included will be original owner John McLure, Sr.; bellboy Ellsworth Statler; General William Rosecrans; actresses Sarah Bernhardt and Henrietta Crosman; wild-west showman William F. "Buffalo Bill" Cody; notorious Senator Joseph McCarthy; and Presidents Theodore Roosevelt, Harry Truman, and John F. Kennedy.


---
Tuesday | March 1, 2022 at Noon
LWB LIVESTREAM: West Liberty University Steel Band
The West Liberty University Steel Band, directed by Dr. Mitch Greco, presents a multicultural program on the vibrant music-culture of the steel pan orchestra. The program will explore the cultural context of the African diaspora in Trinidad and Tobago, as well as tracing the music to its many modern interpretations. Enjoy hearing some of the many styles and genres of music that are played on these beautifully-crafted instruments.
---
Tuesday | February 15, 2022 at Noon
LWB LIVESTREAM: The First African American Graduates of Linsly
Tuesday | February 22, 2022 at Noon
LWB LIVESTREAM: Ann Thomas Memorial Lecture with William H. Turner
The third annual Ann Thomas Memorial Lecture at Lunch With Books at the Ohio County Public Library will take place on Tuesday, February 22, 2022 at noon, and will feature Dr. William H. Turner discussing his new books from WVU Press, The Harlan Renaissance. William H. Turner, PhD, the fifth of ten children, was born in 1946 in the coal town of Lynch, Kentucky, in Harlan County. His grandfathers, father, four uncles and older brother were coal miners. Bill has spent his professional career studying and working on behalf of marginalized communities, helping them create opportunities in the larger world while not abandoning their important cultural ties. He is best-known for his ground-breaking research on African-American communities in Appalachia, but Bill's work is universal.
---
Tuesday | February 15, 2022 at Noon
LWB LIVESTREAM: The First African American Graduates of Linsly
In observation of Black History Month, Rev. Stephen Wright, the first African American to attend and graduate from the Linsly Military Institute, class of 1972, will discuss his experiences as a student. Now a resident of Maryland, Rev. Wright will be joined at the event by other early African American students of Linsly, including, William Gummer, Dorian and Michael Lee, Jeff Potts, Eddie Tyree, and Scott Allyn Thomas. The Rev. Stephen Wright attended Linsly Military Institute from 1968 to 1972 and worked as a steelworker with Wheeling-Pittsburgh Steel Corp. from 1973 to 1985. In 1969, he was elected the first vice president of the West Virginia Baptist State Youth Convention. He has a B.A. from Washington Baptist Seminary and since December of 1998, has been the pastor at First Baptist Church of College Park, one of the oldest African-American congregations in Prince George's County, Maryland.


---
Tuesday | February 8, 2022 at Noon
LWB LIVESTREAM: Archiving Wheeling Presents: Lesser Known Legends of Wheeling - Eileen Miller
Miss Eileen Miller (1921-2010), an African American teacher from Wheeling, taught here before, during, and after school desegregation following the Brown v. Board of Education decision in 1954. Kent State University professor Dr. Martha Lash will share Miss Miller's story which stands as an exemplar of the desegregation experience and as such deserves a place in the history as a talented educator who gracefully and powerfully managed her teaching career through many changes. Dr. Lash shares, "A master's degree student posed the following question to our Professional Development in Teaching class: 'Did anyone in class have an African American teacher during any of their PK-12 years?' Only two raised their hands: the African American female student posing the question, and I, a middle-aged, female, Caucasian professor. The class discussion revolved around the topic of the relatively few teachers of color who grace our public schools. It also left me with lingering questions of how and why an educated and talented African American teacher had taught me in eighth grade in my predominantly European American community on the northern edge of Appalachia during my school years in the 1960s and 1970s."
---
---
Still hungry for more Lunch With Books?
➤ Check out Lunch With Books "From the Vault" - online videos of past Lunch With Books presentation.
---
Make sure to follow Lunch With Books at the Ohio County Public Library on Facebook or subscribe to our LWB YouTube Channel for additional video programs and news updates.
#LibrariesStrong
---
-